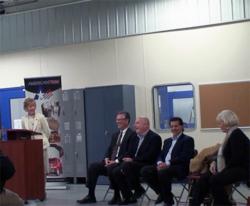 What a tremendous facility - this is exactly the kind of facility the state would like to help ... Innovating for tomorrow.
~Christiane Schmenk, Director Ohio Department of Development
Lima, Ohio (PRWEB) January 24, 2012
American Trim hosted a dedication ceremony to celebrate the team effort of the State of Ohio and American Trim in advancing innovative manufacturing in the Ohio area. Speakers from the company as well as state and local dignitaries spoke to manufacturing improvements occurring all over Ohio to keep the industry strong.
American Trim embarked on this project to reduce energy consumption through changing their UV Tape Line. The State of Ohio provided opportunities to access resources, guidelines and advice to move this project forward. The Finish Development Center's UV Tape Line selectively applies a protective film to a part and then cures the coating with ultraviolet light. This process reduces energy consumption by up to 95%. This savings is seen through the elimination of the need to heat the coating and the substrate, cure the coating, and then cool the panel back to room temperature for safe handling. This technology is "green" with no environmental emissions.
By selectively applying the coating, the part can retain the same protective coating throughout the manufacturing process, continue through the sales process, and into the consumer's home where the protective coating can then be removed. This is both a process and cost improvement for manufacturers.
American Trim has been successful in scaling their research efforts for high-tech manufacturing. These efforts are part of the company's multi-year commitment to reinvent their manufacturing processes and pursue an agile manufacturing strategy. The completion of the Finish Development Center creates opportunities for expansion into additional markets in the alternative energy, automotive, and appliance industries. This will allow American Trim to compete more effectively in this global economy.
Other companies that are making similar investments in Lima:
INEOS is investing $25 million in a new 72,000 sq ft office complex
Potash Corp recently invested $45 million in capital projects.
Husky Lima Refinery is investing $105 million in new facilities
Ford Lima Engine Plant will be getting a new $400 million engine line
About American Trim
American Trim specializes in the forming, decorating and coating of metal and composite materials. Supported by a strong focus on research and development, American Trim is dedicated to providing solutions for the most extreme environments, structural challenges or highly decorative needs. For more information, please visit our website at http://www.amtrim.com.
###