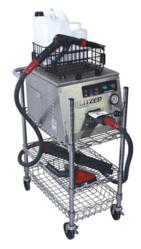 The highly portable machine enables operators to clean and sanitize while reducing chemical usage as well as water consumption.
(PRWEB) January 24, 2012
AmeriVap Systems will unveil the Blitzer, a specially designed commercial dry steam cleaner for the grocery and retail food service industries at this year's FMI trade show in Dallas, April 30-May 3, 2012. The highly portable machine enables operators to clean and sanitize while reducing chemical usage as well as water consumption.
Amerivap systems, a pioneer in dry steam vapor cleaners recognized a need for a product specific to retail food service that would effectively clean and sanitize as well as conserve water, enabling companies to address sustainability targets. This information was gleaned through customer feedback from hospitality and food service customers. "We started designing a commercial steam cleaner suited specifically to the needs of retail food service customers and grocery stores over a year ago," states Werner Diercks, CEO and founder of Amerivap Systems Inc. "Since our technology has been used very successfully in major supermarket chains over the last number of years, we were able to design a machine incorporating features that were frequently requested. Basically we created a machine that is very portable, easy to use, and capable of cleaning all of the equipment and fixtures grocery stores and retail food service establishments."
The steam cleaner, The Blitzer, features a stainless steel construction and uses 110 v electricity, common to all food service installations. The unit produces steam of only 5% moisture, 220 degrees at the point of contact, and an adjustable pressure of up to 70psi. This is achieved while taking take less than 10 minutes to heat up. With a 24/7 operating capability and multiple attachments, the Blitzer is ideal for retail food facilities. The Blitzer is available in two formats: a self contained unit on casters with a easy to maneuver handle, and on a chrome cart that allows the user to store all of its attachments and towels, while remaining extremely portable. Both formats come with an included detergent/germicidal tank that is automatically injected with the touch of a button, should the establishment care to do so.
Aside from its portability, ease of use was extremely important in designing the machine, since simplicity is often a crucial factor in sanitation procedures in retail, where many cleaning tasks are done by entry level labor. As the machine uses no chemicals, sanitizing and cleaning only with water, reliance on unskilled labor to properly measure chemicals is removed. In addition, reducing chemical expense is not only eco-friendly, but is welcomed by an industry where margins are razor thin.
AmeriVap Systems, the market leader in dry steam vapor cleaners for both commercial and industrial use, is committed to providing sustainable cleaning solutions to its customers. Please visit http://www.amerivap.com to view AmeriVap's full line of equipment, as well as view archived webcasts and videos that highlight its dry steam vapor technology. Please visit the company at FMI April 30- May 3, 2012. Booth # 4726.
###