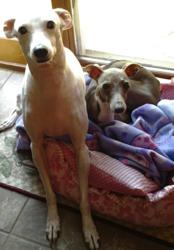 Vail, CO (PRWEB) January 23, 2012
Join Wendy in the coffee shop for a coffee plus a ham and egg croissant for just $7 and Wendy's Coffee Shop will contribute $1.00 to IG rescue. Stop in and enjoy the photos of Eloise and Yuki, beautiful Italian Greyhounds who are a part of the logo for the coffee shop. Yuki is an albino Greyhound rescued from an abusive home.
The Italian Greyhound (IG) is the smallest of the family of gazehounds (dogs that hunt by sight). The breed is an old one and is believed to have originated more than 2,000 years ago in the countries now known as Greece and Turkey. This belief is based on the depiction of miniature greyhounds in the early decorative arts of these countries and on the archaeological discovery of small greyhound skeletons. By the Middle Ages, the breed had become distributed throughout Southern Europe and was later a favorite of the Italians of the sixteenth century, among whom miniature dogs were in great demand. It is, in fact, due to its popularity in Italy at this time that the breed became known as the "Italian Greyhound." From this period onward the history of the breed can be fairly well traced as it spread through Europe, arriving in England in the seventeenth century.
An Italian Greyhound was registered for the first time with the American Kennel Club in 1886. Records show that during the same years a few were being entered in shows. After World War I when the breed was in danger of extinction in Great Britain, fresh stock was imported from the United States, giving evidence of the high quality to be found in America by then.
The Italian Greyhound Club of American was founded in 1954. In 1963, an Italian Greyhound was named Best in Show for the first time, and since then, many others have followed suit.
IGCA Rescue is a club sponsored re-homing service provided for Italian Greyhounds that have been abandoned at animal shelters, taken from abusive homes or surrendered to Rescue due to the death or divorce of the former owner. Occasionally, dogs are turned over to Rescue because the owner can no longer keep the dog and the dog was acquired from a source to which it cannot be returned.
IGCA Rescue volunteers foster the Italian Greyhounds in their homes, where the dogs health and temperament are evaluated. All dogs are taken for a veterinary check-up: when necessary, vaccinations are updated, the animal is neutered/spayed and its teeth are cleaned. Each Italian Greyhound is evaluated so that it can be placed in a home suitable to both the dog and the new owner.
Wendy's Alpine Coffee Shop is a full service facility, providing European coffee, delicious by itself or in specialty drinks. Wendy serves a large variety of breakfast items all morning from 7:30 AM and Panini sandwiches for your lunch requirements. Wendy's hours are from 7:30 AM to 2:00 PM, except closed on Tuesdays.
Check out both Wendy's and Alpine Tavern's new selections and weekly music lineup in SneakPEAK Vail's event calendar.
The Alpine Tavern and Wendy's are not just Vail…..we are the best of Vail….the Vail you fell in love with. In East Vail 4695 Racquet Club Drive in East Vail. Alpine Tavern is open every day including Tuesdays! To make a reservations at the Alpine Tavern call 970-476-7888.
###