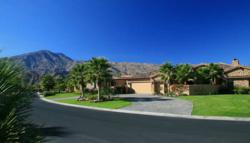 Real Estate sales in Indian Wells were up 17.71% over 2010
La Quinta, California (PRWEB) January 24, 2012
Sheri Dettman, Principal Realtor of Sheri Dettman & Associates in La Quinta announced today that residential property sales rose in 5 of 6 Palm Springs area cities during the last six months of 2011 compared to the same six-month period in 2010.
Indian Wells real estate recorded the largest increase with home sales up 17.71% over 2010. Rancho Mirage and La Quinta followed with increases of 7.07% and 5.9% respectively. Palm Springs home and condo sales increased by 5.28%, Palm Desert was up 3.10%, and Cathedral City was up 2.02%. Sales in Indio declined slightly by 1.67%.
In addition to the increases in home and condo unit sales, the average sale price for the combined six cities increased by 2.67% during the last six months to $376,532. Just over $1 billion in home and condo sales were recorded during the last six months of 2011 in these six Palm Springs area cities alone.
The average sale price in Indian Wells rose an impressive 20.06% during the six months to $813,720 compared to $650,108 in 2010.
Unit sales of La Quinta real estate topped the charts for the six-month period with 640 homes and condos sold compared to 602 during the same period of 2010. The average sale price in La Quinta now stands at $390,830.
"It appears that buyers of resort lifestyle homes and condos in increasing numbers are continuing to take advantage of some of the best real estate opportunities in over a decade," said Sheri. "Personally our sales increased over 20% in 2011 with 74 homes sold compared to 59 properties in 2010."
About Sheri Dettman & Associates
Sheri Dettman & Associates is associated with Luxury Homes by Keller Williams Realty, the second largest residential realty company in North America. Sheri heads the number one Keller Williams Realty team in the desert out of over 400 agents. Additional information about Palm Springs area real estate can be found at: http://www.YourResortHome.com
Data Source: Desert Area MLS® compiled by Sheri Dettman & Associates.
# # #