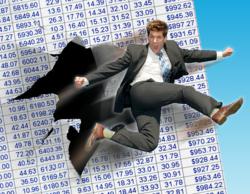 This is the first Deals offering focused on Enterprise CFOs.
San Jose, CA (PRWEB) January 24, 2012
Proformative, the fastest-growing knowledge sharing network for corporate finance professionals today released "Proformative Offers". This new feature gives corporate executives a place to discover unique product and service offers that can directly benefit their companies. "Proformative Offers" debuts with a great offer exclusively for Proformative members: six months access and two hours of direct consulting time for the leading financial planning and reporting software package from Alight Planning. "Proformative Offers" are available front and center in Proformative's Service Provider Directory at http://www.proformative.com/directory-reviews.
"There are plenty of deals and offers available for consumers, but no outlet focused on driving great deals to enterprise CFOs and other corporate finance and accounting leaders," said John Kogan CEO, Proformative. "'Proformative Offers' changes that by providing a single resource to find the best offers available to companies looking to do more in driving results for less money. We are proud to be launching this new feature to our members with Alight Planning. Alight shares Proformative's commitment to bringing world-class solutions to our constituency in a way that saves them and their companies time and money."
"Proformative Offers" will offer Proformative's members an ongoing selection of unique and uniquely valuable special offers. These offers will be for Proformative members only, and will represent significant cost savings opportunities on products and services that companies need regardless of whether or not they are getting a good deal.
"Proformative members are savvy finance personnel proactively looking to exchange best practices and drive their businesses forward," said Ben Lamorte, VP Marketing with Alight Planning. "I am quite pleased to announce our first Proformative offer is a free starter-kit that includes fully functional software, training, and set-up consulting valued at over $2,000. You can build driver-based models in spreadsheets, but Alight Planning is the first solution to make driver-based planning easy. The starter kit is designed to enable Proformative members to quickly set up driver-based models of their business and make the move to Agile Planning[TM] – which is quickly becoming the most important activity for Finance teams in the 21st century."
In order to take advantage of an Offer, users must be a Proformative member. Membership is free, and users must be a corporate finance, accounting, treasury or related professional (go to http://www.proformative.com/user/register to become a member). Any product or service provider serving Proformative's user base of over 400,000 corporate finance, accounting and related professionals can list their offer on Proformative.
To take advantage of "Proformative Offers" users can go to http://www.proformative.com/ directory-reviews. For more information on listing offers, product and service providers can email: offers(at)proformative(dot)com.
About Proformative
Proformative (http://www.proformative.com) connects the world's corporate finance leaders to provide instant advice and insights on the tough financial and strategic challenges they face everyday. Proformative is the first social network specifically designed to help corporate finance professionals be successful in their jobs and careers. One third of all U.S. CFOs use Proformative and has more than 400,000 corporate finance and business professionals in its fast growing network. Proformative is headquartered in Silicon Valley and funded by Floodgate, Bullpen Capital, and Inspiration Ventures.
About Alight Planning
Alight LLC's Alight Planning is a true driver-based financial planning and reporting software package that automates complex business modeling for more accurate strategic plans, revenue projections, budgets and rolling forecasts. Its unique architectures and easy-to-use interfaces provide finance staff the power they need to build complex driver-based planning models, while delivering traditional budgeting and planning structures such as line item detail, integrated financial statements and multiple-user security. Cost-effective and IT-independent, Alight Planning is affordable and easily deployed by Fortune 500 business units, as well as midmarket companies with limited IT resources. Alight has over 250 customers including Kaiser Permanente, Pennsylvania State University, British Telecommunications, Pittsburgh Mercy Health, the Swan and Dolphin Resort at Disney World and Verizon Wireless.
###