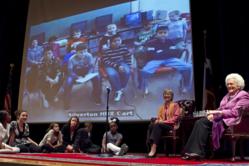 "We're helping the students understand the process of participating as a citizen," Dr. Shirley Hammond, Bush Library and Museum Director of Education
College Station, TX (PRWEB) January 24, 2012
Former first lady Barbara Bush will speak about the importance of literacy and read to thousands of elementary and middle school students at the fifth annual Reading Discovery and Distance Learning Program and Videoconference Feb. 2 at the George Bush Presidential Library Center at Texas A&M University.
The Reading Discovery Program is presented in cooperation between the Bush Library and Museum's Education Department, the Texas Education Service Center Region VI, and Texas A&M University's Trans-Texas Videoconference Net. Visit http://dl.esc6.net to register for this free distance learning program via live-streaming, recording or videoconference.
Bush Library and Museum Director of Education Dr. Shirley Hammond said having Bush involved in the reading program is a real privilege.
"It is an exciting program with students connecting directly to Mrs. Bush. The program shows different practical, fun approaches for reading," Hammond said.
This year's program is focused on campaigning and elections, in connection with the "Headed to the White House" exhibit currently on display at the Bush Library and Museum.
Hammond said the Reading Discovery and other distance learning programs are an important part of the library and museum's mission to educate and promote understanding of civic literacy.
"We're helping the students understand the process of participating as a citizen," Hammond said.
About 600 students from Navasota Junior High School and Bryan ISD's Jane Long Middle School will be in attendance at the program, and an anticipated 30,000 other students in grades 4-8 from across Texas and other states will participate through videoconference.
Jessica Carter, an 8th-grade pre-AP language arts teacher from Jane Long Middle School, will join Bush on stage to speak about the importance of student involvement and leadership. Also on stage will be several pairs of student reading buddies from Navasota Junior High and Jane Long Middle School, as well as a performance by members of the Texas A&M Singing Cadets. Mike Wright, general manager of KBTX Media, will moderate the program.
Based on availability, registered Texas participants may receive a copy of Scholastic Publishing Inc.'s "The Election Book: The People Pick a President," courtesy of The Barbara Bush Texas Fund for Family Literacy and the Bush Library and Museum's Education Department.
For more information go to http://bit.ly/zwyVCi, or contact the Bush Library and Museum's Education Department at (979) 691-4013 or email Bush.Education(at)nara(dot)gov.
The George Bush Presidential Library and Museum at Texas A&M University is part of the National Archives and Records Administration's Presidential Libraries network. The Bush Library and Museum is a leading research institution, popular area tourist attraction and proud community partner. Our museum tells the story of the life and times of George Bush, 41st President of the United States, with emphasis on family, leadership, public service and civic literacy. For more information visit the Bush Library and Museum website at http://bushlibrary.tamu.edu.
To view or download photos for use from the 2011 Reading Discovery Program, go to our Flickr photostream at http://www.flickr.com/photos/georgebushlibrary/sets/72157626348867978/
Barbara Bush bio: http://bushlibrary.tamu.edu/research/bio_bbush.php
Visit our press room at http://bushlibrary.tamu.edu/information/press_room.php
###