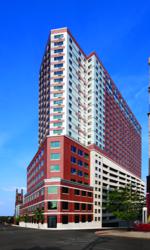 New Brunswick, New Jersey (PRWEB) January 24, 2012
The Vue has officially grand opened to the public with a unique mix of Penthouse condominium and luxury rental residences in the heart of New Brunswick, NJ's burgeoning downtown district.
Ideally located on Somerset Street and Easton Avenue with direct walkway access to New Brunswick's train station, which offers express service into Manhattan and Philadelphia, the 23-story building is the City's tallest, offering impressive views of the Raritan River and New Brunswick skyline. The first eight stories consist of 57,000 square-feet of retail space including a full-scale Barnes & Noble to also serve as the bookstore for Rutgers University and a Brother Jimmy's BBQ restaurant, 57,500 square feet of commercial space and a 657-vehicle parking garage, according to New Brunswick Development Corporation (DEVCO) and Pennrose Properties, the partnership developing The Vue.
Situated on top of the retail component is a 14-story residential tower that houses 150 upscale rental residences and 42 Penthouse condominiums that occupy the top three floors. Initial occupancy for the residential homes is expected in February.
The Marketing Directors, Inc. is the building's exclusive marketing, sales and leasing agent.
"The Vue is a gateway to New Brunswick," says Christopher J. Paladino, President of DEVCO. "New Brunswick is a sophisticated urban destination and The Vue brings an iconic new building to the City featuring exceptional homes, first-class amenities, and a convenient location encouraging the use of public transportation."
"This is a true transit-oriented development," adds Timothy Henkel, Senior Vice President of Pennrose Properties, LLC. "We will appeal to both current New Brunswick residents looking to upgrade their lifestyle as well as those from surrounding areas who are attracted to the City's pedestrian-friendly, convenient, downtown lifestyle."
The Vue has debuted with two professionally-decorated model residences. One home displays the luxury finishes and appointments of the condominiums, while the second model illustrates those of the rental residences.
One- and two-bedroom condominium homes at The Vue range in size from 773 to 1,216 square feet of living space and are initially priced from $277,000. The well-appointed residences feature hardwood flooring throughout the living and dining room, recessed lighting, and open gourmet kitchens complete with custom cabinetry, granite countertops and backsplashes, and state-of-the-art, stainless steel GE Energy Star appliance packages. Master baths are adorned with silvery gray granite countertops and marble flooring, elegant arctic white title shower surrounds, custom café vanities with polished chrome fixtures and glass-enclosed showers. Each home also includes a washer and dryer.
The Vue also offers a mix of one- and two-bedroom rental homes with myriad upscale features, including hardwood flooring in living and dining rooms, gourmet kitchens with grey oak cabinetry, quartz countertops and stainless steel GE Energy Star appliances; luxurious master baths and in-home washer and dryers. Monthly rents for these residences begin from $1,800.
"The rare offering of both condominium and rental residences opens this community up to consumers with a wide range of lifestyle needs, all of whom will appreciate the exceptional value found here in terms of upscale finishes, superb amenities and services and an ultra convenient location," notes Jacqueline Urgo, President of The Marketing Directors, Inc., exclusive sales and leasing agent for The Vue.
"Resort-like amenities include an attended, custom designed lobby; fully-equipped fitness center and residents-only lounge featuring a billiards table, flat screen televisions, WiFi business bar and a separate catering kitchen and conference room. The Vue has also partnered with Verizon's Virtual Concierge service to provide residents with additional services such as dining and building event reservations, and the ability to manage local venders (i.e. drycleaner, florist, housekeeping service, etc.) remotely. Residents will also appreciate the convenience of direct access to the New Brunswick Train Station and on-site parking garage, as well as a location next to Rutgers University and all the entertainment and cultural delights of New Brunswick."
Designed by Manhattan-based Meltzer/Mandl Architects, PC, the building's exterior is notable for its multi-toned red brick and white façade and distinguishing exterior "R-U-T-G-E-R-S" clock above the street level entrance to the Barnes & Noble College Bookstore. Additional retail and commercial space already secured at the building include offices for the New Brunswick Parking Authority and Starbucks, while the 62,000 square-foot RWJ Fitness & Wellness Center along with The Fresh Grocer, a full-service supermarket, are currently under construction across the street and slated to open fall 2012.
For additional information on The Vue, please call 732-828-0111 or visit http://www.TheVuenj.com. The building is located at 110 Somerset Street, New Brunswick, NJ. The onsite sales and leasing office is open Monday thru Friday from 10:00am to 6:00pm and Saturday and Sunday from 11:00am to 6:00pm.
###