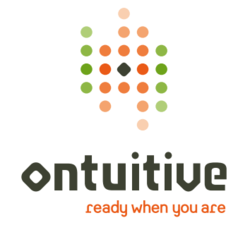 Ontuitive has helped us improve the productivity of thousands of employees and eliminated significant training costs.
Washington, DC (PRWEB) January 25, 2012
LearningGuide Solutions, a global provider of performance support and embedded learning solutions, has announced a new brand and a new name – Ontuitive – that accurately describes both the benefit that the company delivers to its customers and the energy of the dynamically growing company.
"Reducing time to productivity is both an opportunity and a challenge in today's world," said Alfred Remmits, CEO of Ontuitive. "Searching for and analyzing information consumes nearly 25 percent of an information worker's time. Reducing time to information is an opportunity for companies to increase productivity, accelerate time to proficiency and improve performance. I'm excited about our company's explosive growth. I also believe this growth proves that performance support and embedded learning solutions are both needed and valuable."
Ontuitive's offices in the United States, the United Kingdom and The Netherlands position the company to successfully support the needs of both global and regional organizations. After a major infusion of capital in 2011, the privately held company has aggressively expanded its capabilities and footprint. Moving its worldwide headquarters to Washington, D.C. positions the company closer to more organizations that benefit from its solutions. The company also maintains offices in Leicester, England, and Hertogenbosch, The Netherlands.
"The new name embodies two key concepts about our solution," said Bob Mosher Chief Learning Evangelist of Ontuitive. "First, information should be available on-demand and easily available when a person needs it, wherever they are in the workflow process. Second, the solution should be a seamless and intuitively function embedded in an application. The results should be just enough information to keep people productive and to produce measurable ROI for our customers."
The company's customers are already benefiting from the time and cost savings. "Ontuitive has helped us improve the productivity of thousands of employees and eliminated significant training costs," said Jeremy Smith, Senior Manager of Learning Solutions with Herman Miller, global provider of innovative office furniture. "We are very pleased to be working with them."
Ontuitive workplace solutions are available for most leading business applications, including Salesforce.com , SAP, Oracle PeopleSoft, Cerner, McKesson, Epic, Microsoft Office 2010 and 365, Microsoft SharePoint and Microsoft Lync, as well as custom applications.
Compounding the employee adoption problem within these applications and others is the ever-increasing volume of information that employees create and need to access. IDC reports that in 2011, the amount of information created and replicated will surpass 1.8 zettabytes. That's 1.8 trillion gigabytes, and it's expected to grow by a factor of nine in just five years. IDC also found that the time spent searching for information averages 8.8 hours per week, at a cost of $14,209 per knowledge worker per year. Analyzing information consumed an additional 8.1 hours, costing organizations $13,078 per worker annually.
Classroom, e-learning and blended-learning solutions are well designed to enable the user to acquire new knowledge but are poorly suited to provide immediate support when the user returns to the workplace and has to apply this newfound knowledge. "This is the dilemma that Ontuitive's Just Enough methodology is meant to address," Mosher continued. "Our software solutions are designed to provide users with just enough learning and support to continue productive work inside the business process."
Ontuitive solutions include:

Quick Start: This solution is a low-risk engagement designed to build the business case in just days by assessing your learning and support strategy, building a working proof of concept and developing a business-impact assessment.
Enterprise Application Adoption: This solution is designed to maximize ROI and mitigate end-user risk by decreasing time and expense of training, boosting end-user adoption, minimizing help-desk costs and dependency, and maximizing business-process compliance.
Onboarding Employees: This solution is designed to get employees productive faster by minimizing time spent training, accelerating time to proficiency, boosting new-employee productivity and reducing costly errors.
As a result, Ontuitive customers can benefit as they:

Maximize business application adoption and proficiency
Improve both employee work quality and quantity
Onboard new employees more efficiently
Boost employees' ability to adapt to change
Decrease training costs
Increase business process compliance
Minimize help-desk costs
Enhance employee decision making
"The need for employees to get the help they need, when they need it — at their moment of need — will become even more critical to the organization's success," said Remmits. "That idea is fueling our growth and driving our new name and new brand. It's also the idea behind our new logo, which shows how, in a sea of information, we help you find the one piece you need. That's what the diamond symbolizes. We believe that like a diamond, a crucial piece of information that's there when you need it is a valuable thing."
About Ontuitive
Ontuitive provides embedded learning and performance support solutions that drive significant increases in employee productivity by helping employees during their most profound moments of need, alone at their desk, struggling with what to do, where to click or where to search to get the job done. Learn more at http://www.ontuitive.com.
###