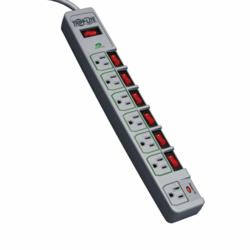 With individual outlet control and surge suppression, users can save energy while protecting their computing or home theater applications
Chicago, IL (PRWEB) January 23, 2012
Tripp Lite, a world-leading manufacturer of power protection and connectivity solutions, has introduced a new energy-saving surge suppressor. The TLP76MSG ECO-SURGE Suppressor reduces energy waste caused by phantom loads—-electricity wasted by an idle device, even when it appears to be turned off.
Key Features and Benefits:

Energy-saving individual outlet configuration allows users to eliminate phantom loads
Six outlets with their own ON/OFF switch
One "always on" outlet provides constant power to devices that require it, like DVRs and routers
Convenient Master Switch cuts power to all outlets (except "always on") at once
EMI/RFI noise filtering
1080 joules of surge protection
"This new ECO-SURGE Suppressor gives users another great option for protecting their electronics," said Karenann Brow, Tripp Lite Senior Product Manager. "With its individual outlet control and surge suppression features, users can save energy while protecting their computing or home theater applications."
For more information on Tripp Lite's new TLP76MSG ECO-SURGE Suppressor, go to: ECO-SURGE Suppressor with Energy-Saving Outlet Control.
To download product images, go to: TLP76MSG ECO-SURGE images.
About Tripp Lite
Outstanding product reliability and exceptional service have been Tripp Lite trademarks for 90 years. Tripp Lite's innovations include the world's first UPS system designed specifically for personal computers, and the world's most trusted premium surge suppressor--the Isobar®-with more than 18 million in use. Tripp Lite maintains the highest level of ready-to-ship inventory in the industry with more than 2,500 different products, including UPS systems, rack systems and cooling solutions, PDUs, PowerAlert software for enterprise-level system management and control, surge suppressors, KVM switches, cables and connectivity products, inverters, power strips and notebook accessories. Headquartered in Chicago, Illinois, Tripp Lite maintains a global presence with fully staffed offices worldwide. Additional information, including a list of Tripp Lite's sales offices and authorized reseller partners, can be found by visiting Tripp Lite's website: http://www.tripplite.com.
# # #