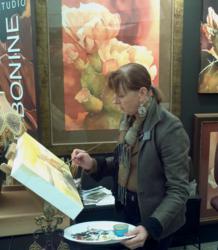 Scottsdale, AZ (PRWEB) January 26, 2012
Art has no boundaries and is the visual history keeper, the narrator of the human experience. The working artist has strived not only to express personal emotions & experiences but those of the heritage, culture and society as a whole.
In today's multi-cultural society, art in America runs the gamut from Abstract Impressionism to American Expression, from Art Nouveau to Realism, and beyond.
The Arizona Fine Art EXPO is art in the making, with the most glorious ingredients. Watching art being made in the heart of the Sonoran Desert only happens once a year. Like a magical carnival that yields memories of childhood, artists from across America travel thousands of miles to settle in the desert and make their art. Gathering inspiration from their surroundings, inspired by those they meet, remembering their experiences, they put their tools to work and patrons can watch – Art in the making.
How to make a perfectly unforgettable art experience:
INGREDIENTS:
A treasure chest of talented artists (at least 100 including painters, potters, photographers, sculptors, glass blowers, gourd artists, jewelers, hand crafted furniture makers, woodworkers, specialist in handcrafted kaleidoscopes)
A large quantity of art movements including, abstract, realism, contemporary, classical, southwest.
An collection of mediums: Acrylic, oil, marble, stone, clay, silver, semi precious stone, glass, canvas, paper, graphite, pencil, watercolor, bronze & copper.
And patrons!!
WHAT, WHEN, WHERE & WHO:
Arizona Fine Art EXPO, Opening Day January 19th for ten weeks!
Large White Tent, Sonoran Desert, Scottsdale, Arizona.
Free Parking
2- Acre Sculpture Garden
Art classes, Music, Creativity, Laughter, Imagination & Expression, Cafe
And last, but by no means least – Patrons of the Arts
Throw all the ingredients into a large pan and leave to simmer from January 19th to April 1st 2012.
###