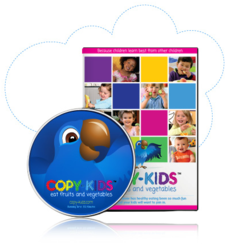 I never would have expected my child to eat raw broccoli – but she demanded it as soon as she saw another child eating it on TV. Now it is one of her favorite vegetables.
Santa Monica, CA (PRWEB) January 24, 2012
COPY-KIDS MEDIA, an independent media company, presents its debut DVD. Copy-Kids Eat Fruits and Vegetables is the first DVD in a series designed to encourage healthy habits in young children. This series is for children aged six months to 5 years.
Watch the Trailer: http://vimeo.com/24151268
Copy Kids Eat Fruit and Vegetables is divided into 12 chapters, each focusing on a different fruit or vegetable. The yummy veggies and fruits include: Bell Peppers, Cucumbers, Carrots, Avocado, Tomatoes, Broccoli, Oranges, Bananas, Raspberries, Strawberries, Apples & Blueberries.
The genesis for the project came when Cai Dixon noticed her young daughter was more willing to try new fruits and vegetables when she saw another child eating them. Bella liked to copy. Dixon wondered if the experience had to be live, or if a video of children eating fruits and vegetables would also work? "It did, and not just with Bella," recalls Dixon. And so a concept was born: Find children who LOVE to eat fruits and veggies, film them eating them – and make the video available to parents. It's that simple. Says Dixon, "I never would have expected my child to eat raw broccoli – but she demanded it as soon as she saw another child eating it on TV. Now it is one of her favorite vegetables."
Director Malona Badelt was volunteering at an orphanage in Ghana when she was asked to direct Copy-Kids. She literally got off the plane in LA and drove to a test shoot that same day. She fell in love with the project and was able to coax the most amazing performances out of each cast member. It's unscripted and quirky, with children behaving authentically, which gives it surprise and comedy. "I would never have gotten such amazing performances if the video had been scripted," says Badelt. "Each child brought his or her own piece of magic to the project."
For parents, the DVD also features an interview with renowned pediatrician Dr. Jay Gordon, MD, FAAP, author of Good Food Today, Great Kids Tomorrow. He talks about childhood overweight and obesity, suggests ways that parents can get their children to make healthier food choices, and explains why Copy-Kids is such a powerful idea, noting "That's just the way kids are, they love to copy other kids."
Selected as one of the 10 Best Audio/Visuals for 2011 by Stevanne Auerbach, PhD. / Dr. Toy. http://www.drtoy.com/product-view/?productid=119 It's a unique tool for parents who want to encourage healthy eating in their children.
This innovative DVD is engaging & enchanting – kids want to play it over and over as they learn to love these healthy foods. Dixon adds, "Just be sure you have these foods at home – because your kids are going to want to eat what the Copy-Kids are eating."
Running time: 115 mins
Price: $19.95
Available for sale at http://www.copy-kids.com
http://www.facebook.com/CopyKids
ABOUT COPY-KIDS MEDIA
Copy-Kids is a media company producing video that encourages positive habits in young children, by letting them watch and copy other kids. Copy-Kids unique content – online and DVD – helps parents get their children hooked on healthy and positive habits.
Produced for children aged 6 months to 5 years, Copy-Kids debut video is fun and compelling for both children and parents. Subsequent Copy-Kids products will cover other desirable behaviors like Tooth Brushing, Exercising, Tying Shoes, Letter and Number recognition... plus more healthy eating… all taught by kids.
Copy-Kids is building a global media brand that will scale rapidly across all electronic media, in multiple languages. The Los Angeles based founding team has experience launching media business in North America, Europe & Asia.
The Team
Director: Malona P. Badelt is an award winning film director (Chicxulub, Vartan LLP) with a Master of Fine Arts degree in Cinema-Television from the University of Southern California.
Producer: Caroline Dixon has spent 20 years working with young children and is an expert in children's product retailing.
Chief Creative Officer: Klaus Badelt is a distinguished film composer (Gladiator, Pirates of the Caribbean, Rescue Dawn) who has scored more than 100 feature films.
Producer: Roger Jackson is an executive with a global non-profit, and the former VP Content for MTV online video business iFilm.
Executive Producer: Robyn Klein runs business affairs for Copy-Kids and has particular expertise in children's programming.
Contact:
ROGER JACKSON
roger(at)copy-kids(dot)com
310-463-5807
###