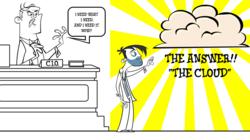 Everyone LOVED, LOVED, LOVED the video. In fact, the video was truly the hit of the evening. Folks think the marketing department is brilliant! And we think you are brilliant for making us look so good.
Saint George, UT (PRWEB) January 24, 2012
Explainer Videos are the new learning fad. Catching ahold of that fad, YDraw has made some awesome video examples on how to keep an audience's interest. Focusing on whiteboard animation, they have made a new way to keep an audience entertained while learning. There are a wide variety of Explainer Videos one can find on the web from guitar tutorials, business tips, DIY videos, and many more. Making an awesome company Explainer Video is a great way to get people excited, interested, and spreading the word about product and business.
1) Plan: What is the objective? What is the content, tone, and medium of the video? One important thing to remember is to keep it Sweet and Simple, leaving customers with just enough information to want to know more, but not too much to overwhelm them.
2) Storyboard: Plot your outline on a storyboard, and get very detailed. This way, visualization and editing is easier to accomplish. The whole outline of the project can be visualized in one place, from beginning to finish. Make sure to have the whole project edited and finished before beginning filming, and edit the content so it will fit into 2 minutes or less. This will keep the audience interested without taking too much time away from their day.
3) Audio: Make sure to have a great voice-over. Nothing kills a video more than an annoying voice in the background. Let coworkers and friends listen to voice-overs to decide which one is the best. Once you have a good voice-over, find the perfect background music for the occasion. Make sure the music is simple and not drowning out the voice-over. A clean, soft, relaxing tune is best for most videos.
4) Launch: Be proud of the video, and flaunt the masterpiece. Put it on as many websites as possible. Make a scene, get the web talking about it, get everyone involved. The more it is talked about, the more others will start noticing it's effect.
There is no better way to spread the word about a business or company than making a great explainer video. Visit Ydraw for some amazing examples of how to keep explainer videos sweet, simple, exciting, and compelling. Join the rest of the growing businesses who are ahead of the game and already catching onto the fad. Get started and create your amazing explainer video today.
Ydraw's Video Scribing and Whiteboard Animation are cutting edge tools that make business stand out above competitors. Ydraw's video scribe videos are creative, unique, and get the perfect results. Taking topics that are hard to explain, Ydraw makes a simple video scribing video with hand drawn pictures, engaging the audience and helping them retain important information. Ydraw Video Scribe Videos can increase your Customers views, drive more traffic to your site thus increasing sales.
###