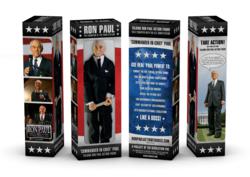 Discerning consumers recognize a rare and valuable offering when they see it.
Northbrook, IL (PRWEB) January 23, 2012
Revolution PAC Saturday unveiled a series of collectible action figures bearing the likeness of presidential candidate Ron Paul. The launch was made in conjunction with the super committee's webcast of the South Carolina Primary results.
The 12", talking, limited edition action figures are available in two models – the "Commander-in-Chief" Paul, complete with the U.S. Constitution, and "Super Hero" Paul. All proceeds go toward Revolution PAC's efforts to secure the Republican nomination for Congressman Paul. Purchase at ronpaulactionfigures.com.
"Barack Obama certainly doesn't have a corner on the action figure market," remarks Revolution PAC chair Gary Franchi. "Ron Paul proved he could go head to head with Obama in the Jones Soda bottle ballots during the 2008 campaign. I'm quite confident that he'll be competitive in the collectible toy demographic as well."
Franchi continues, "Discerning consumers recognize a rare and valuable offering when they see it. Plus, they know that – unlike Barack Obama – this is the only way that Ron Paul can be bought."
In terms of actual polling numbers, a CNN/ORC International Poll released last week revealed that Rep. Paul and Mitt Romney are the only Republican contenders tied with Barack Obama in a likely general election matchup.
Revolution PAC is supporting U.S. Rep. Ron Paul's campaign for the Republican nomination and consistent, constitutional message with targeted TV advertising, direct mail campaigns and innovative Web promotions complemented by billboards and radio ads in key primary states. Unlimited donations by individuals, businesses and organizations are being accepted by Revolution PAC to support that effort.
###