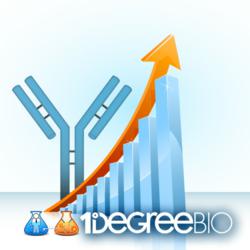 "The data suggests a real growth trend in the $2 billion a year research antibody market," says Alex Hodgson, CEO, 1DegreeBio. "However, the ways in which antibodies are used and sourced are changing. Companies need to be aware and ready to evolve."
Toronto, Canada (PRWEB) January 25, 2012
1DegreeBio Inc. (1DB) has released its 2012 Antibody Sourcing and Usage Report. The survey of 400 life scientists reveals that research antibodies remain a hot commodity, with 94 percent of respondents planning to maintain or increase their current antibody usage in the next year.
"The data suggests a real growth trend in the $2 billion a year research antibody market," says Alex Hodgson, CEO, 1DegreeBio. "However, the ways in which antibodies are used and sourced are changing. Companies need to be aware and ready to evolve."
A key concern for researchers is focused around antibody quality. Although respondents overwhelmingly cited 'quality' as the most important criteria for their antibody purchasing decisions, many do not feel that they are getting the quality they need to do their research effectively. In fact, almost half of respondents felt that 50 per cent or more of the antibodies they have used in their research were of insufficient quality.
Researchers are finding ways to vet the quality of antibodies before they make a purchase, however, often relying on the opinions of their peers. Colleagues' recommendations and user reviews on independent websites were among some of the top factors that respondents said strongly influence their antibody purchasing decisions. User reviews on suppliers' websites carried much less weight, however, with only 18 per cent relying strongly on these reviews to make a purchase decision.
"These results show that the culture of peer review that dominates the scientific world also shapes the way this community evaluates products," says Hodgson. "As with journals, not all review sources are considered equal."
The full report, which covers the global market and includes regional comparison of US and other key markets, is available for purchase at 1DegreeBio.com
About the Survey
The 2012 Antibody Sourcing and Usage Report was a survey of over 400 life scientists, investigating global trends and regional highlights surrounding commercially available research antibodies. The survey was administered online between November 28th – December 18th, 2011 through both a blind distribution (where respondents were not aware of the administrator of the survey), and social media. All participants were pre-screened to ensure survey integrity.
About 1DegreeBio Inc.
1DegreeBio, Inc. is a privately owned Canadian corporation that operates 1DegreeBio.org, an open-access online platform designed to meet the needs of the biomedical research community, and 1DegreeBio.com, offering listing services and market research to the Life Science industry. 1DegreeBio brings the research community together enabling researchers to quickly and easily locate top quality products while offering a new channel for antibody suppliers to more effectively market their products online. As of July 2011, 1DegreeBio receives support from Digital Science, a new technology division of Macmillan. For more information, visit http://1degreebio.org.
About Digital Science
Digital Science is a division of Macmillan Publishers Ltd., launched in December 2010 to provide technology solutions for researchers. From intelligent knowledge discovery tools to software applications for the laboratory and decision-support systems for managers, Digital Science combines world-class technology with a resolute focus on scientists and those who support the research process. For more information, visit http://www.digital-science.com.
###