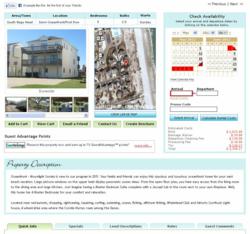 We've been listening to our guests and owners more than ever before, and the new website was built upon that feedback.
Nags Head, NC (PRWEB) January 24, 2012
After six months of strategic planning and design, Stan White Realty's OuterBanksRentals.com went live at the end of December 2011 just in time for the new year and the 2012 vacation rental booking season.
The new website is a product of Stan White Realty's partnership with Visual Data Systems. Based in Columbia, MD, Visual Data Systems is one of the vacation rental industry's leaders in web design, online marketing, technology solutions, and consultation. Expanding upon an existing relationship with Visual Data Systems, Stan White Realty contracted the web services company for a substantial redesign of OuterBanksRentals.com. For the vacation rental industry, it has been estimated that at least half of all transactions are made online. The importance of a user-friendly, aesthetically pleasing website is critical. "Competition in our area is fierce," says John White, CEO of Stan White Realty, "and when it comes to marketing in our industry, the website is the most important feature." Less of a makeover and more of a complete overhaul, the redesign and launch were major efforts for both parties involved. "We had a lot of changes to make, a lot of catching up to do," says White. Kelly Hurley, COO of Visual Data Systems, called the project "one of the most comprehensive builds we've ever done."
Featured on the new website are many basics that the former version lacked, such as Live Chat assistance, property locations using Google Maps, a cost estimator tool, guest reviews, a shopping cart feature, and "share with a friend" tools. Additionally, the new site offers cutting-edge features, such as a custom brochure builder where users can create and then print or email a customized brochure featuring their favorite selections, and Last-Minute Bids, where guests can submit bids for arrivals taking place within three weeks. The website also features GuestWeb and OwnerWeb, products of Local Social, Inc., a North Carolina based company specializing in software, technology, and data management systems for vacation rental managers. GuestWeb was one of the most anticipated features of the new website, as it serves as an online dashboard that allows users to easily add and decline optional packages, sign their lease agreement, calculate their totals and make payments online. "Our guests love how much easier booking is with GuestWeb," says Heather Cater, General Manager of Stan White Realty.
The new website has been well received. "Our owners are happy, our guests are happy. That was the end goal and I think it's going to make a huge difference," says White. Stan White Realty's bookings are already up from this time last year, with 23% more site visits. With the help of new content and Visual Data's search engine optimization services, the new site has already jumped three rankings on Google for its top search term, with 37% more organic traffic from Google versus last year. "Increasing our exposure on Google was one of our biggest priorities," said White. "The launch was very exciting for us, but I think that watching the site climb the ranks on Google will be even more satisfying."
According to White, the new site serves as an indicator and preview for the many changes the company has in store for 2012 and the years following. "We've been listening to our guests and owners more than ever before, and the new website was built upon that feedback." Stan White Realty was voted "Best of the Beach" in the property management category four years in a row from 2002-2006 by the Virginian Pilot's Coast Magazine. "We're ready to be best of the beach again," says White, "and we're going to do whatever it takes to get there."
For over 35 years, Stan White Realty & Construction, Inc. has specialized in renting, managing, building, and remodeling vacation homes on the Outer Banks of North Carolina. Family owned and operated, they offer availability for over five hundred Outer Banks vacation rentals, including Nags Head, Duck, Corolla, Southern Shores, Kill Devil Hills, and Roanoke Island.
# # #