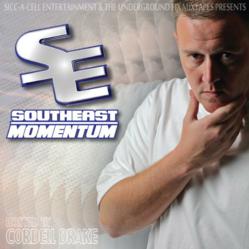 Miami, FL (PRWEB) January 23, 2012
SouthEast recently released his mixtape "Momentum." Coast 2 Coast Mixtapes presents the project, which is hosted by Cordell Drake, in association with The Underground Fix Mixtapes and Sic-A-Cell Entertainment. It is now available for free download. "Momentum" features guest artists appearances from Luni Coleone, Skatterman, Damien Grey, Stack, Mighty, Calico101, P-Space, Knightstalker, IllyReyst, and Anon. Production credits include Black Light, Air Tight, and Stack.
Northwest MC SouthEast started to look outside himself as a way to promote himself as an artist, finding that mixtapes were the best answer. In 2010, he signed up as a Coast 2 Coast DJ, which gave him access to hundreds of other artists and DJs worldwide. He was then able to start his own business, The Underground Fix Mixtapes, offering affordable services to underground artists who are looking to get their music heard. Not only has it proven to be a successful business, but has also done the job of getting SouthEast's music out to thousands of new listeners.
He is currently on Luni Coleone's "Don't Call It A Comeback" tour, performing and promoting music from "Momentum," as well as consistently doing shows in his hometown of Portland, OR, with plans to expand into other areas outside the Northwest like Los Angeles, Atlanta, and Miami. SouthEast is currently working on a commercial release set to drop in the third or fourth quarter of 2012. Though it is currently untitled, he is steadily working on a catalogue of tracks to choose from for the album.
"Momentum" is available for free streaming and download at http://coast2coastmixtapes.com/mixtapes/mixtapedetail.aspx/southeast-momentum-hosted-by-cordell-drake
###