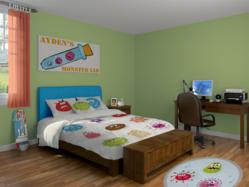 "The goal is to find exactly what you are looking for in our new selection of monster decor. Whether it's for a child or child-at-heart there's a wide variety of cute and cuddly, or ominously scary monsters – all of which can be personalized."
Pierre, SD (PRWEB) January 26, 2012
The start of a new year brings the debut of new cartoon characters in the latest animated movies, no doubt funnier and funnier-looking than ever. VisionBedding.com, an online home decor retailer, has joined in the child-driven craze for funny, caricature creations through their new and updated monster and cartoon decor lines. Over 100 new monster themed designs have been added. Kids looking for funny, cute, or even mildly scary cartoon designs in the bedroom will love everything that monster bedding has to offer.
Both parents and children can agree this new selection of funny, intimidating and even charming monster creatures will bring any room to life. Kids can choose a single design or mix and match monsters for the entire bedroom, including blankets, pillows, duvet covers, rugs, and more. However, unlike other bedding companies, VisionBedding.com offers a 3rd dimension of home decor, by personalizing this new monster bedding with a child's name, quote or even their own picture.
Although the leading online retailer of home decor products does not offer Disney licensed images, their recently updated selection of unique and artistic cartoon creations leaves little to be desired. Boasting an impressive 15 million images in the online gallery, kids and grown-ups alike are sure to find the perfect decor for the bed, walls, floor and bathroom! The concept is simple: Customers select their favorite monster pictures or designs from the gallery and VisionBedding uses the latest technology to turn them into bedding products, wall decor, shower curtains, rugs and much more.
What if your child is an aspiring cartoon artist? Simple. Turning their own drawings into a brand new bedding set will make them feel like a professional cartoonist. One part of VisionBedding's vast offerings includes custom bedding that is created with the customer's own images. Not only can a child's own work of art be displayed for all to see, but they will have a treasured keepsake to last a lifetime. "The goal is to find exactly what you are looking for in our new selection of monster decor. Whether it's for a child or child-at-heart there's a wide variety of cute and cuddly, or ominously scary monsters – all of which can be personalized," says Erin, VisionBedding's creative designer.
About VisionBedding
VisionBedding uses advanced production techniques to create over 15 million unique bedding and home decor items. Customers can choose from one of the company's fun bedding designs or submit their own photos to produce a high-quality product that is made custom for each customer. The VisionBedding team of designers assists each customer in getting each order exactly right. For more information, visit http://www.VisionBedding.com.
###