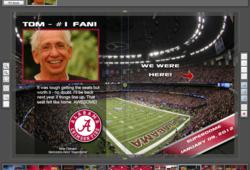 LumaPix's FullScale solution enables not just B2B2C, but extends it to real-time, short-turnaround B2B2C campaigns - making it into an innovative, profitable, perception-setting application.

Amnon Nachshon, HP's Global Manager - Photo Segment
Montreal, Canada (PRWEB) January 25, 2012
The 2012 BCS National Championship was the launch pad for FullScale – a new platform for design-driven eCommerce. The morning after the BCS game ended, fans looking for mementos of the event could visit a dedicated site to customize and then buy a photobook specific to their team, blending personal tailgate party photos with professionally-shot images from the field. The FullScale platform rose to the challenge of preparing, presenting, and selling the editable content within hours of the game.
THE PROPOSITION
The BCS 2012 Championship drew the second-largest cable audience in history: 24.2 million viewers watched Alabama and LSU football teams in the finals of the BCS Bowl football series.
Fans are big consumers of branded photo products, including posters and calendars. At the BCS game, they discovered a new ability: creating mementos that seamlessly blended licensed pro images (shot hours earlier at the game) with their own personal images, shot on consumer cameras with friends at tailgate parties. They created truly personal products reflecting their experience of the game in one-off printed books delivered directly to their door.
Fans went to http://www.ACTPhotobooks.com, where they could flip through pages of the book in their browser, upload personal images, populate the template, modify text, and then finalize their order.
While many generic online photobook solutions exist, only officially licensed websites have the specific teams and logos of interest to fans. FullScale was uniquely capable to integrate licensed content and custom storefronts "in real time" to capitalize on the opportunity as it was happening.
MEMORY BOOK STUDIOS
The BCS photobook offering was conceived by Memory Book Studios, a Colorado Springs - based publisher. CEO Jean-Michel Bertrand received approval from the University of Alabama and Louisiana State University to provide photobooks incorporating official logos and game images. His choice of technology provider for the tools to create, customize, and sell the photobooks online was LumaPix – the Montreal-based publisher of the new FullScale pipeline.
TIMING CHALLENGES
MBS received initial clearance from the brand licensing company to proceed with the project on December 7th 2011; that same day, MBS contacted LumaPix and introduced the project. Game day was Jan 9th 2012, just four weeks away – with Christmas break in the middle.
Dedicated sites were created immediately, and stores were created in the FullScale platform to have color choices matching team colors. Templates were authored, store products were created, price points set, and a direct connection to MBS's payment processor enabled and tested.
The universities had to approve any use of their logos, meaning that they needed to see the templates in advance of the game. Their approval was delivered January 3rd 2012, only 6 days before the game.
During the game, photos of the game were captured from ground level by four licensed photographers. Their images were collected from the field and uploaded to LumaPix's cloud storage services. A staff artist placed the game photos into the templates, then saved the templates back to the cloud for review – and all was ready.
The morning after the game, customers awoke to realize that moments from the game they had watched only hours earlier were now available – edited, approved, and included in an elegant book available for them to customize.
This is real-time B2B2C.
DETAIL ON FULLSCALE
FullScale is an end-to-end software-as-a-service pipeline enabling businesses to create custom graphical templates, publish them for sale in privately-branded online stores, and receive ready-to-print PDFs of the results.
It includes a complete suite of technologies:

Power layout tools for artists to create custom templates
A rebrandable, customizable storefront with private administration and payment processor configuration
A streamlined online editor for templates, integrated directly into the store workflow
Cloud-based storage of templates, user WIP, user images, and rendered output
A cloud-based render farm converting WIP to printable PDFs that scales to handle enormous volume
Reporting tools and a clean XML-defined integration surface for production processes
COMMENTS
Amnon Nachshon, HP's Global Manager - Photo Segment - Strategic Marketing, commented:
B2B2C applications are a natural way for Commercial printers to get into one of the highest-growth, high-margin industries in the print space: photo. LumaPix's FullScale solution enables not just B2B2C, but extends it to real-time, short-turnaround B2B2C campaigns - making it into an innovative, profitable, perception-setting application. The fast turnaround adds another dimension to the business that provides this service to their customers: the customers think, "Wow: the event has just finished – these guys are unbelievable!"
Jean-Michel Bertrand– CEO of Memory Book Studios, adds:
We were working on our own software when we came across FullScale. The advanced technology, the ease of use and the endless creative possibilities offered by FullScale were so attractive that we decided to test it in real time. We made the right choice! The software worked flawlessly and we were able to achieve our goal in producing a customizable memory book for a major sporting event just hours after the game was over. Success on this event is to be shared with FullScale's team. They have been with us every step of the way making our first outing with FullScale a positive experience to be repeated for many events to come.
Michael Sheasby, CEO of LumaPix, notes:
I invite publishers that share the vision of mass customization to reach out to us for a demo. This project went from zero to sixty over four weeks, without custom engineering - demonstrating firmly that FullScale is not only open for business, but ready for the big time.
AVAILABILITY
FullScale is available immediately for production use.
Visit http://www.FullScale.net for more detail.
Sales enquiries should be directed to
Bob Winkler
sales(at)FullScale(dot)net
888.753.4647
ABOUT LUMAPIX & FULLSCALE
LumaPix is a private corporation based in Montreal, Quebec, Canada. FullScale is a LumaPix technology enabling brand owners to capitalize on their content and user base with custom-branded solutions for image-centric product creation. For more information, visit http://www.LumaPix.com.
©2012 LumaPix. All rights reserved. Product specifications and availability are subject to change without notice. LumaPix and FullScale are trademarks of LumaPix. All other trademarks contained herein are the property of their respective owners.
###