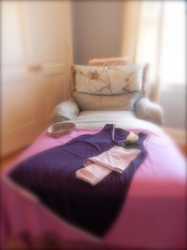 From Chicago Tribune Reviewer; Seka Palikuca; ... we put it to the test and found the fabric ultra-soothing and ultimately relaxing. There was also no waking up in the middle of the night to throw off the covers. Bottom line-we slept better.
Highland Park, IL (PRWEB) January 24, 2012
Goodnighties Recovery Sleepwear is new ionized nightwear fabric which also moisture-wicks and is anti-microbial. It's America's latest sleep option in a category of solutions from serious prescription sleep aids to orange light bulbs. Goodnighties is a breakthrough innovation and a 'dream' for the chronically exhausted. Those with night sweats from menopause or illness are also experiencing the benefits of this innovative fabric. Currently made for women with a men's line coming soon.
New Goodnighties sleepwear is poised to capitalize on America's hidden sleep epidemic that is eroding productivity in an already weak economy. In business terms within a global market, this can mean the difference between success and failure.
In the past, the phrase 'bottom line' is known to define a measurement for 'top line growth' or 'increasing efficiencies', but in today's fast times, it's boiled down to a single word… 'results.'
With 'results' in mind, the search then for the 'bottom line' has become part of American vernacular which has found itself in everything from weight loss and obesity issues to better sleep solutions.
The link of these two serious health issues ironically was confirmed by well known Surgeon and Talk Show Host, Dr. Mehmet Oz during a recent appearance with the TODAY Show Anchor, Ann Curry. The segment began with the alarming number that "70 million Americans suffer from sleep disorders" announced by Ms. Curry. Dr. Oz continued with a disclosure that "Sleeplessness is the single most overlooked transgression in America", leading to a myriad of health issues from high blood pressure and cancer to long-term memory loss. Dr. Oz continued by explaining the link between sleeplessness and obesity; "if you don't sleep well you'll crave carbohydrates which can lead to obesity." This information is part of a cover story titled "Sleep Better in 2012" detailed in Parade Magazine.
So what's the 'bottom line' here?
Dr. Oz suggested simple solutions for better sleep that are rooted in common sense. 'Lower body temperature', 'put electronics away', herbal remedies like 'taking melatonin' – all great ideas, but what he missed is American ingenuity at its finest. It's a simple solution in fabric that can be found in Goodnighties Recovery Sleepwear. When attention spans are lost from chronic exhaustion, the idea of a high-performance fabric for better sleep is definitely a new concept that needs enlightenment. Yes, the idea is counterintuitive but 'bottom line' is bottom line. Clearly stated this week by new customer, Rita Heller from Stoughton, Wisconsin; "I read about your product in Women's World magazine, and decided to order a pair, expecting them not to help. I was shocked when I woke up the next morning after waking only once! I usually woke up four times a night!! For the first time in years I awoke refreshed and without severe pain!!" Mrs. Heller continued with "Anyone on the fence, just try a pair. It will be the best thing you have ever done!", an unsolicited bottom line testimonial!
Goodnighties is made with a new patented ionization process called IonX® technology that embeds negative ions into the fabric fibers to stimulate blood flow to tired muscles helping to promote natural healing and ultimately better sleep. Dr. Albert B. Ouimet, the lead textile scientist on this breakthrough innovation, has worked for years in high-tech fabrics. His most recent position was with Warnaco's high-profile divisions; Calvin Klein, Chaps, Speedo, Warner's, Olga, Nautica Swim and Lejaby in France. Dr. Ouimet was also instrumental in developing Speedo's Fastskins competitive swimsuit. He received his degrees from the United States Naval Academy, (Annapolis, Maryland), Naval Post Graduate School (Monterey, California) and the University of Rhode Island. Bottom line…. Dr. Ouimet is an expert in fabric technology.
"The fabric we developed that is now used for Goodnighties Sleepwear is a hybrid of great attributes; superior ionization, moisture-wicking with an added benefit of being anti-microbial" …. "For people in need of a restful night's sleep there is nothing better" says Dr. Ouimet.
100% Made in the USA Goodnighties has hit the market at the perfect time. Women with insomnia for whatever reason, are excited to finally have a simple no-pill solution to sleep better. So far the brand is selling briskly to all corners of the globe.
One busy reviewer also confirmed the consumer rave reviews; Chicago Tribune reporter, Seka Palikuca succinctly stated…"If you're a skeptic, as many of us are, you might be wondering how fabric can possibly help you sleep better. Well, we put it to the test and found the fabric ultra-soothing and ultimately relaxing. There was also no waking up in the middle of the night to throw off the covers. Bottom line-we slept better."
For more information, please visit http://www.goodnighties.com.
###