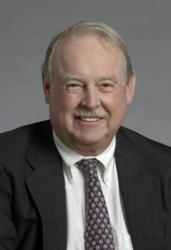 Miami, FL (PRWEB) January 25, 2012
Jack Lowell is the new Chairman of the Board of Directors of Community Television Foundation of South Florida, the non-profit organization that operates public television station, WPBT2.
Mr. Lowell is Senior Managing Director of Flagler Real Estate Services, Inc., concentrating on office building sales and leasing. Prior to joining this firm 17 years ago, Mr. Lowell headed his own real estate company for 5 years. Active in civic and industry organizations, Mr. Lowell is Immediate Past Chairman of the Beacon Council and currently serves on the Boards and Executive Committees of United Way, The Salvation Army and Teach for America. Mr. Lowell resides in Coral Gables with his wife, Natasha, and has five adult children.
He succeeds Ramon A. Rodriquez, who chaired the WPBT2 board for two years and remains as immediate past chair.
In addition, the WPBT2 Board added two new directors:
Carolyn Chin is CEO of Cebiz, a consulting and management firm and also, CEO of Health Wellness Solutions. Ms. Chin has served on over 30 boards, advisory boards and commissions including the State Farm Bank Board and is a member of the Audit, Governance and ALCO (as Chair) Committees among many others.
Nicholas J. Zaffiris is the CEO for United Healthcare's South Florida Health Plans. Mr. Zaffiris is responsible for delivering affordable, quality-based health programs to employers and members, with the ultimate goal of improving the overall health and well-being of the population served.
The WPBT2 Board also elected three vice-chairs:

Laurie Silvers, Hollywood Media Corp., Boca Raton
Mark W. Cook, Royal Palm Management, Palm Beach
Susan R. Hantman, CPA, Aventura
ABOUT WPBT2
South Florida's premier public broadcaster, WPBT2 is a community-licensed, not-for-profit media enterprise serving communities from the Treasure Coast to the Florida Keys. WPBT2 provides high quality content from PBS, independent acquisitions and its own original productions. WPBT2's digital media platform offers: 2HD, a 24-hour high definition channel; Digital 2.2, a mix of Science & Nature Channel, Culturas, The Florida Channel and Create; Digital 2.3, V-me, a 24-hour national Spanish-language network.. The WPBT2 website, http://www.wpbt2.org,, includes Impromp2 (a community blog), and uVu, a video sharing website.
###