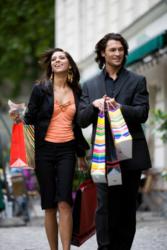 Millionaire dating sites are the latest trend in the huge online dating industry. It's where the rich and beautiful mingle.
(PRWEB) January 25, 2012
SugarDaddyFinder.com has today officially released their brand new dating portal, after months of testing, providing sugar daddies and sugar babies with an online resource through which to meet. SugarDaddyFinder is the largest sugar daddy dating resource website in the world, and the new dating portal offers powerful features and tools for members.
Already, SugarDaddyFinder has had hundreds of thousands of new members in their innovative dating portal, each of which has created a free profile to help them connect with others on the site. This unprecedented growth from the initial debut of the dating portal is a testament to just how popular SugarDaddyFinder is with sugar daddies and sugar babies.
Of course, no amount of new members does those searching for connections any good if members are not online. SugarDaddyFinder has experienced significant member usage, with thousands of members online each and every day.
For sugar babies seeking potential sugar daddies, the new dating portal offers significant benefits. First, creating a profile is free, which is a refreshing change in a world dominated by premium pay sites. Second, SugarDaddyFinder provides sugar babies with valuable resources, tools and capabilities to enhance their search and help forge connections. Users are able to upload custom profile pictures of themselves. Members are also provided with an in-depth personal profile where they can share their likes and dislikes, their goals and dreams, and more. The profile settings offer enormous customization so that members can maximize their chance of meeting the perfect someone through the dating service.
SugarDaddyFinder has traditional sugar daddies searching for romance and fun, but the site's membership also consists of sugar mommas, as well. Members come from all walks of life – lawyers, doctors, actors, politicians, athletes, business moguls and more. However, despite their disparate backgrounds, they have one thing in common – they are all seeking someone special. To find out more about SugarDaddyFinder or to sign up for a free membership, visit http://www.sugardaddyfinder.com.
About SugarDaddyFinder: SugarDaddyFinder is the world's oldest and largest online resource for connecting sugar babies to sugar daddies. With the debut of the brand new online dating portal, SugarDaddyFinder makes is easier than ever to find that special someone.
###