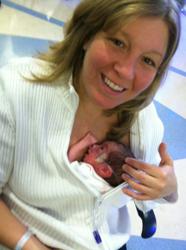 Air medical transport is not only advantageous, but critical for neonate survival and maternal morbidity.
Port Charlotte, Florida (PRWEB) January 24, 2012
Air Critical Care LLC, headquartered in Port Charlotte, Florida, announced the recent air ambulance transport of a High Risk Obstetric [HROB] patient of 29 weeks that allowed the medical transport company to implement its new, highly-advanced ultra sound equipment managed by the company's recently appointed HROB physician, Blane M. Crandall, MD. The new ultra sound equipment had the ability to monitor the baby's external heart & allowed Dr. Crandall to determine whether the mother was well enough for air ambulance from Long Island, New York to the Caribbean.
Expecting the arrival of their first baby, Michael and Tracey Sonntag, a young couple from Long Island, New York decided to ring in 2012 with a Caribbean cruise. But their tropical cruise was soon disrupted when Tracey began to experience pregnancy-related complications while the ship was docked on Nassau Island, Bahamas.
"It was during the holidays. The hotels were booked. We're in a foreign country. It's our first baby," said Michael. The couple knew they needed an air ambulance medical transportation services company that could transport them to Winthrop Hospital, which is a Level III certified NICU and is one of few facilities with a combined maternity ward and a NICU.
That is when a hospital case manager at Doctor's Hospital contacted Florida-based Air Critical Care LLC which is a leader in the medical transportation and air ambulance services industry. Led by Dr. Crandall, the Air Critical Care Obstetric Emergency Transport team utilized the company's new General Electric LOGIQ Book XP, which is a compact ultrasound with an advanced platform designed to provide new levels of clinical value for demanding healthcare environments, notably in the aviation medical transport of HROB patients in countries with lesser healthcare options, according to Crandall.
The diagnosis was preeclampsia which is a common disorder among pregnancy after the 20th week, according to Crandall who confirmed a secondary condition when he diagnosed Tracey upon arrival at Doctor's Hospital. "A sub-diagnosis, obstetrical partial previa where the placenta is laying over the cervix generates pools of blood which causes massive bleeding as the cervix opens," explained Crandall.
"Dr. Crandall used the new ultrasound three times on our trip to New York," said Michael. "We knew we were in good hands." With Air Critical Care's advanced ultrasound external heart rate monitor, Dr. Crandall was able to assess the baby's heart rate and verify the stability for a medevac of his HROB patient.
"Air medical transport is not only advantageous, but critical for neonate survival and maternal morbidity," said Dr. Crandall. "A high risk pregnancy should be identified and properly managed by the physician. Several conditions can exist that can result in a high-risk pregnancy, including gestational diabetes mellitus [GDM], pregnancy-related obesity or can result in premature birth which can lead to developmental delays and higher mortality rates."
Logan Bayleigh Sonntag was born on December 31 weighing 2 pounds, 15 ounces and may have been one of the last babies born at Winthrop University Hospital in 2011.
As the leader in medical transportation and air ambulance services, Air Critical Care LLC offers worldwide service 24/7 throughout the U.S., as well as air medical transportation with the support of a network of offices throughout the United States, including Michigan, New York, Arizona and Florida. In addition to air ambulance, Air Critical Care LLC provides medical escort services and commercial stretcher services on international flights.
For more information about Medical Flight Transport, visit aircriticalcare.com or call toll free at 800-550-0674.
# # #