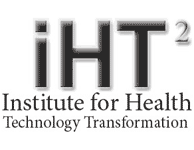 New York, NY (PRWEB) January 24, 2012
The Institute for Health Technology Transformation announced today that they will be hosting the iHT2 Health IT Summit in Fort Lauderdale, June 12-13th in Fort Lauderdale at the Hyatt Regency Pier Sixty Six.
The iHT2 Health IT Summit in Fort Lauderdale, will bring together C-level, physician, practice management, and IT decision-makers from North America's leading provider organizations and physician practices. For two full days, executives interact with a national audience of peers, national leaders and solutions providers featuring the latest solutions for practice management, mobility, telemedicine, outsourcing, IT infrastructure, next-generation electronic medical records, disease management, and more.
The Summit will feature keynote presentations from C. Martin Harris, MD, CIO & Chairman IT Division, Cleveland Clinic, and Jonathan Perlin, MD, PhD, President, Clinical & Physician Services, and CMO, Hospital Corporation of America.
Featured Speakers include: Shadaab Kanwal, MBA, MISM, Executive Director Research & Health Policy, Kaiser Permanente; Jayne Bassler, VP & Associate CIO, Florida Hospital; David Miller, MHSA, Vice Chancellor & CIO, University of Arkansas for Medical Sciences; Catherine Peper, VP Provider Technology Solutions, Blue Cross Blue Shield Florida; Jeanette Schreiber, JD, AVP for Medical Affairs & Chief Legal Officer, College of Medicine University of Central Florida; Gay Madden, RN, VP of MIS, Suncoast Hospice; Lisa Rawlins, Executive Director, South Florida REC, and many more.
Panel discussions for the Health IT Summit in Fort Lauderdale include: Innovation in Healthcare: How Meaningful Use is Impacting the Evolution of Healthcare, TeleX: Taking Care Beyond the Hospital Walls; The hCloud at 30,000 Feet: Cloud Computing Solutions for Mobile Healthcare; Preventative Security for Electronic Health Information (ePHI); Business Intelligence in Healthcare Using Smart Data to Improve Outcomes; Connecting Points of Care: Leveraging EHRs to Make HIE Work; and Accountable Care & Analytics: Driving Accountability through Information.
Sponsors and Partners include: MEDSEEK, Avhealio, Rubbermaid Healthcare, VMware, AMDIS, CMIO, DOTmed, eHealth SmartBrief, Executive Insight, FierceHealthIT, Frost & Sullivan, Healthcare IT News, IDC Health Insights, MarketsandMarkets, NASCIO, ReportsandReports, SearchHealthIT.com, and more.
About the Institute for Health Technology Transformation
The Institute for Health Technology Transformation is the leading organization committed to bringing together private and public sector leaders fostering the growth and effective use of technology across the healthcare industry. Through collaborative efforts the Institute provides programs that drive innovation, educate, and provide a critical understanding of how technology applications, solutions and devices can improve the quality, safety and efficiency of healthcare. http://www.ihealthtran.com
For more information about attending or sponsoring the iHT2 Health IT Summit in Fort Lauderdale please contact Matthew Raynor, Senior Marketing Manager, Institute for Health Technology Transformation 561-748-6281 or matt(at)ihealthtran(dot)com
###