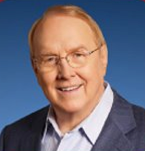 Colorado Springs, CO (PRWEB) January 23, 2012
For more than 35 years, Dr. James Dobson has stood for strong traditional families and the Judeo-Christian principles that are the foundation of our country. In a Special Update announcement preceding a recent Family Talk broadcast, listen in as Dr. James Dobson interviews Bill Dallas from Champion the Vote about a special event upcoming this Thursday, January 26.
Champion the Vote is pleased to present a special conference call with Dr. Dobson on January 26th to discuss the importance of the traditional family to the future of America and how we can ensure that our voices are heard in the political process.
Join us to hear this renowned Christian spokesman share his latest thoughts about marriage, family, America, and our mandate for action as Christians.
CONFERENCE CALL
Thursday, January 26
10:00 am PT
11:00 am MT
12:00 pm CT
1:00 pm ET
CLICK HERE TO REGISTER FOR THE CALL WITH DR. DOBSON
###