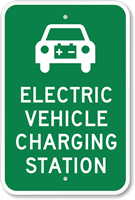 We want to reward our customers who decide to reduce pollution by driving electric cars," said Blair Brewster, President of MyParkingSign.
Brooklyn, NY (PRWEB) January 25, 2012
MyParkingSign.com is encouraging environmentally-friendly initiatives by launching new signs for electric vehicles. These parking signs were made especially to direct drivers to charging stations for electric vehicles and areas for vehicles with low fuel emissions.
Electric Vehicle Signs publicly acknowledge drivers who chose to drive electric cars and reduce emissions. According to CNBC.com, electric-vehicle sales account for less than a half-percent of car sales on the U.S. market, but research analysts maintain that this tiny market will grow over the next few years. "We want to reward our customers who decide to reduce pollution by driving electric cars," said Blair Brewster, President of MyParkingSign. Electric charging stations are needed now more than ever to keep vehicles up and running.
Many of these signs for electric vehicle charging stations are printed with attractive green and white 3M ink that is in line with the theme of going green. These signs carry colorful pictures of cars and arrows to point to where the charging stations are. In addition, there are standard black and white signs that are the more traditional displays. The Electric Vehicle signs are reflective and reflect headlights. Signs carry the 3M ink warranty that guarantees that they last at least seven years outside.
The material that composes these signs is aluminum that is 63 milliliters thick. The aluminum will not rust and will withstand wind and abuse. In addition, the Electric Vehicle signs will hold up through chemical spray. The unique asset that MyParkingSign promotes is that buyers can customize their own signs. Simply click on a template, upload personal artwork or choose artwork supplied, and add in the text desired.
Electric Vehicle Signs are part of a selection tailored specifically to electric hybrid cars. For more information, visit http://www.myparkingsign.com/Parking-Signs/Electric-Vehicle-Parking-Signs.aspx.
About MyParkingSign.com
MyParkingSign is the largest online distributor of parking and traffic signs. Find over 3,000 different parking signs in stock as well as labels and accessories. Customers can create their own signs using convenient customization wizards.
About SmartSign
SmartSign is one of America's fastest growing e-commerce companies and parent of http://www.MySafetySign.com, http://www.MyParkingSign.com, as well as over 50 other sites.
Traditionally, signs with the right message have been hard-to-find, hard-to-design and hard-to-order. By positioning "Signs as Solutions", SmartSign has taken an entirely different approach. Through highly targeted, yet content-rich and authoritative sites, the company provides specific solutions to specific problems – such as keeping your Parking Lot safe and manageable. "We take the agony out of finding and ordering your perfect sign" – Blair Brewster, SmartSign founder. Couple this with fast and free shipping, 3M warrantied signs that outlast fast-fading ink jet signs from competitors, the web's largest range of designs and a best price guarantee, it is easy to see why SmartSign has grown so quickly.
###