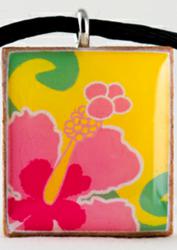 Hawaii has so much beauty to offer and our necklaces are a perfect way to share.
Honolulu, HI (PRWEB) January 25, 2012
With Our Aloha, a premier provider of Hawaiian flowers and gifts is pleased to announce the addition of Hawaiian handmade jewelry to it's on-line offerings. The designs are inspired by traditional local themes including native flowers and ancient petroglyphs. In addition to the pendants, With Our Aloha offers an elegant necklace made of small puka shells, malachite, amethyst and lapis lazuli on a string with color glass beads.
"With the remarkable appeal of Hawaii's flowers and leis it was natural for us to include jewelry as our next catagory," said Frank MacMillan, owner of With Our Aloha. "Hawaii has so much beauty to offer and our necklaces are a perfect way to share."
Petroglyphs are stone carvings found throughout the Hawaiian islands. Originally used as a form of communication they have been incorporated into contemporary art because of their striking designs.
Hibiscus is the state flower of Hawaii and is found in many colors including yellow, red, pink and orange. They are often worn in the hair but due to their short lives they are not used as cut flowers.
All Asian cultures have a strong influence in Hawaii. So it was natural for the designer to incorporate imagery from Japanese and Chinese cultures including Kanji, cherry blossoms, sushi and koi.
The original designs are printed and glued to a small wooden tile. Each is sealed with a protective coating to insure long lasting beauty. Once completed the pendants are strung on a black satin cord with a silver plated clasp. Each pendant is 3/4 by 7/8 of an inch.
Jewelry items are sent from Honolulu by First Class Mail.
About With Our Aloha
Since 2000 With Our Aloha has sent farm fresh Hawaiian leis, cut flowers, and gift items throughout the US. The company prides itself on using only locally grown Hawaiian flowers as well as crafts and treats created in Hawaii.
###