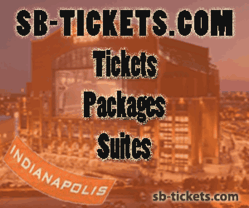 Prices yesterday soared to over $2500 per ticket.
Indianapolis, Indiana (PRWEB) January 24, 2012
Early reports suggest that Super Bowl tickets are going down to under $2,000 per ticket have proven wrong. According to Sb-Tickets.com prices yesterday soared to over $2,500 per ticket confirming that tickets to the rematch between the Giants and Patriots are highly sought after. After browsing multiple reseller websites the least expensive ticket to be found was in the upper level for $2,475, with fees. The most expensive tickets sold for over $12,000 each since Sunday's game.
Sb-Tickets.com reports that Downtown hotels have sold out on the secondary market after fetching as much as $6000 per night. Decent hotels are still costing over $3,000 for a 4 night stay 15 miles from the stadium. The cheapest hotel that could be found was in the city of Carmel for a price of $1300 for a three night stay.
Tickets are now being listed in section and row after months of zone seating. Distribution of tickets has begun and some tickets are being shipped out within 24 hours of placing an order.
For fans wanting to experience the game but not buy a ticket, private tailgate parking areas have been set up around the stadium with prices starting at around $600 per Recreational Vehicle and $300 per car.
Super Bowl parties in Indianapolis the weekend of the game are still available. Fans are focused on one thing...finding a game ticket; once that happens, expect party tickets to start selling fast!
About Sb-Tickets.com
Sb-Tickets.com is partnered with some of leading ticket agencies in the United States to offer the best and most affordable pricing options. Sb-Tickets.com also offers hospitality services to corporate clients. Visit http://www.sb-tickets.com for up to date pricing and news. Contact Sb-Tickets.com at 1-888-410-1430.
###