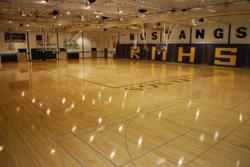 Lisa DaRocha, Assistant Principal at Rolling Meadows said " We could not be happier with the product and the installation process that was performed by Jack Laurie Floors."
Rolling Meadows, IL (PRWEB) January 25, 2012
Aacer Flooring Vice President of Sales and Marketing Kevin Barker announced today, the completion of Rolling Meadows High School new gym floor in Rolling Meadows IL.
Rolling Meadows High School recently had massive water damage to their main gym floor. The floor was completely removed and replaced with Aacer ScissorLoc™ II with a PowerVent™ system. "The floor selected for this project needed to accomplish two main goals; player safety and assurance that the system could combat future unforeseen moisture problems. "This floor has the unique capability to provide both of these requirements as it has a long history of great installs around the world" said Kevin Barker.
Lisa DaRocha, Assistant Principal at Rolling Meadows said " We could not be happier with the product and the installation process that was performed by Jack Laurie Floors." DaRocha went on to say, "The coaches have been commenting that the floor has a much better feel than the previous floor and we love the look of the floor" The maple floor is first grade maple. It is very clear in it color and with over 25,000 square feet in one space, it is the largest piece of athletic equipment at Rolling Meadows. Coach Kevin Katovich commented, "we really love the look and feel of the new floor".
Jack Laurie Commercial Floors performed the complete turnkey project for Rolling Meadows High School. Jack Laurie Commercial Floors based out of IN, is one of the Midwest largest flooring contractors and is an accredited Aacer Dealer. Their work can be found around Indiana, Ohio and Illinois. http://www.lauriefloors.com
About Aacer Flooring:
Aacer Flooring is the world leader in maple performance sports flooring systems. With more than 100 years experience in every part of the wood flooring industry, Aacer manufactures sports performance floor systems designed to accommodate athletes at all levels of play. Aacer also produces ten species of northern hardwood in a variety of face widths and grades in a LEED certified environmentally controlled facility. Aacer protects the environment by involving themselves as members of the FSC, MFMA, NWFA, and USGBC. Aacer's floor systems are showcased around the world and in the Basketball Hall of Fame where the history and future of sports floors are prominently displayed. http://www.aacerflooring.com Media Contact: Ellen Grabian elleng(at)aacerflooring(dot)com
###