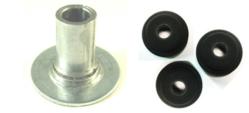 Oshkosh, WI (PRWEB) January 24, 2012
Triangle Manufacturing is a leader in the manufacture of Motor Mount Assemblies for the HVAC industry. One simple, but highly efficient way for securing the motor to the mount is to use grommets with washered ferrules that aid in dampening the vibrations of direct drive motors.
Triangle has altered a traditional ferrule, a narrow metal cylinder used for reinforcement and stability within a rubber grommet, to include a welded-on washer. The washer is mechanically crimped to the ferrule in an automated manufacturing process and both the ferrule and the washer are galvanized steel. This galvanization is corrosion-resistant and will prevent rusting.
Triangle provides a large variety of grommets and washered ferrules that are specifically designed to dampen vibrations of direct-drive motors used in residential and commercial air-conditioning and heating units.
These washered ferrules lower assembly time and cost along with removing the need for an additional component. Triangle Manufacturing strives to help OEM's cut costs and save time with efficient and economical solutions.
Triangle's HVAC Products
Triangle provides blower bearing brackets, direct drive motor mounts, HVAC repair kits and motor mount assembly fixtures. Triangle designs motor mount for some of the largest HVAC OEM's in the world. These mounts are designed for both commercial and residential systems and equipment. Along with cushioned bearings, Triangle is capable of producing components that suppress noise and vibration for many HVAC applications.
About Triangle Manufacturing
For almost a century, Triangle Manufacturing Company, located in Oshkosh, Wisconsin; has used creative engineering, technical know-how and advanced automation to be the leader in fully customizable metal fabrication, product innovation and invention. We have introduced and redesigned fresh products that are progressive in their respective industries. Whether you need lazy susan bearings and HVAC components or rod ends and custom mountings for direct- drive and belt-driven motors, you can Consider It Done with Triangle Manufacturing.
###