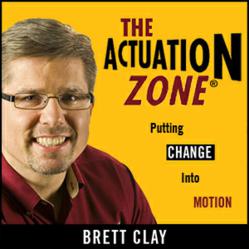 The Actuation Zone®. Where you put change into motion--and achieve your goals!
- Brett Clay, host
Seattle, WA (PRWEB) January 24, 2012
Barry Posner, PhD, co-author of the best-selling books, 'Credibility' and 'The Leadership Challenge,' was interviewed on The Actuation Zone® Radio Show, hosted by Change Leadership expert, Brett Clay, author of 'Selling Change, 101+ Secrets for Growing Sales By Leading Change.'
In the interview, Posner described the principles of effective leadership, which he says are universal and timeless.
The entire interview may be heard at http://bit.ly/prweb-bp.
In August, 2011, Posner and and co-author, James Kouzes, published the second edition of 'Credibility, How Leaders Gain and Lose It, Why People Demand It,' nearly twenty years after the publication of the first edition. Posner says the ways leaders gain and lose credibility have not changed since the first edition. Unfortunately, he says, trust in institutions and leaders have reached a new low point since the first edition was published.
What do people look for in those they are willing to follow? Posner says, his research has consistently shown, "We look for people who are honest and we look for people who are competent. Those are the two most important characteristics." In other words, "We look for people we can trust and who know what they are talking about."
Posner also discussed the Five Practices of Exemplary Leadership® that he and Kouzes have found to be the universal hallmarks of effective leaders. Over three million managers and leaders have used the Leadership Practices Inventory tool, which assesses a person's behaviors and attitudes across the five practices:

Model the Way
Inspire a Shared Vision
Challenge the Process
Enable Others to Act
Encourage the Heart
Posner summarized by suggesting three changes people should make, right now, to be more effective leaders.
About Barry Posner
Barry Posner, PhD is co-author of the award-winning, best-selling books, 'Credibility', and 'The Leadership Challenge', which has sold over 2 million copies. He and his co-author received the American Society of Training and Development's highest award: Distinguished Contribution to Workplace Learning and Performance. Posner was named one of the 10 Most Influential Thinkers in the world by HR Magazine. He was the dean of the Leavey School of Business at Santa Clara University for 12 years and has co-authored many other award-winning books on leadership.
About the Actuation Zone® Radio Show
The Actuation Zone® Radio Show airs LIVE on ContactTalk Radio at 8am Pacific time on the 2nd and 4th Fridays of every month and may be accessed online at http://ctrhotspot.com/page/how-to-listen and in Seattle, WA on KRWM 106.9FM HD3. Free subscriptions are available via RSS and on Apple iTunes. Subscription links, announcements and discussion about the show are available on Facebook at http://www.facebook.com/TheActuationZone.
Inquiries regarding being a guest or advertising on The Actuation Zone may be sent to guest(at)actuationzone(dot)com.
About Host, Brett Clay
Brett Clay is the author of "Selling Change," named the best business book and best sales book of 2010, and is the CEO of Change Leadership Group, LLC, a firm that helps clients improve their sales, marketing, and leadership capabilities. A veteran of over 20 years in international sales and marketing management, most recently with Microsoft Corporation, he is an award-winning author, award-winning marketer, trainer, speaker, consultant, and business leader. Brett Clay may be followed on Twitter at @SellingChange. http://www.SellingChange.com.
###