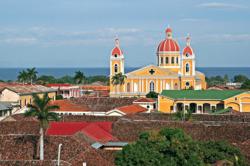 Nicaragua is really a pristine version of Costa Rica before the crowds and five-star resorts moved in.
Helena, Ala. (PRWEB) January 24, 2012
International Expeditions, a pioneer of authentic and engaging ecotourism, is introducing a new 2012 tour to Nicaragua combining premier wildlife reserves, colonial architecture and culture, and the best accommodations for a discerning audience. While once heralded as an exceptional destination for only the most intrepid travelers, Nicaragua is quickly gaining a reputation for offering some of Latin America's most pristine and uncrowded natural attractions.
"Nicaragua is really a pristine version of Costa Rica before the crowds and five-star resorts moved in," said Bill Robison, IE Director of Program Development. "We've had an overwhelmingly positive reaction to the program because our travelers want to explore this former 'backpacker-only' destination before it becomes mainstream."
Guests on International Expeditions' nine-day, small-group itinerary enjoy Nicaragua's best nature travel areas — Juan Venado Island Reserve, Selva Negra Private Reserve, Montibelli Private Reserve, Chocoyero Reserve, Mombacho Reserve, Masaya Reserve and Lake Nicaragua. On naturalist-guided hikes and boating excursions, guests search for vibrant birdlife, including quetzals, toucans and "Chocoyo Coludo" — or green parakeets.
Seasoned naturalist guides are a hallmark of International Expeditions' tours, and Nicaragua guests will travel with some of this country's best. Juan Carlos Mendoza is Nicaragua's first licensed naturalist guide, and Edgar Castañeda worked on teams that created the first marine park on the Pacific coast and made the first map of Nicaragua's Pacific coral reefs. Both men are part of the organization cataloging newly spotted species for the country's first bird book.
This Nicaragua tour also exposes guests to the charming colonial cities of León and Granada. Travelers enjoy both locally guided walking tours and time at leisure to take in the architecture, art and history of these atmospheric cities.
Three departures are being offered for International Expeditions' Nicaragua tour – April 14, 21 and 28, 2012. To ensure a deeply personal experience, the group size is limited to just 18. Prices start at $3,198 and include transfers, most meals, bottled water and tips to porters, wait staff, drivers and local tour guides.
For information or a brochure, contact International Expeditions at 1-800-633-4734 or nature(at)ietravel(dot)com.
About International Expeditions
Celebrating 32 years of engaging nature travel, International Expeditions specializes in small-group journeys to Earth's most exhilarating destinations. A pioneer of environmentally responsible travel, IE is committed to preserving natural habitats and improving the welfare of the people and communities it visits. This mission is reflected in the conservation, education and community-service projects IE supports worldwide. International Expeditions has been named to Travel + Leisure's list of "World's Best" tour operators & safari outfitters seven times and to National Geographic ADVENTURE magazine's list of "Best Adventure Travel Companies on Earth."
###