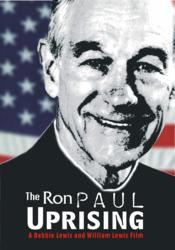 Our purpose in this section of the film is to make people aware that it's not just one party and it's not only the people, it's an array of things going on that contribute to vote fraud.
Columbia, MO (PRWEB) January 26, 2012
Voting has wrapped up in South Carolina, but the sting of knowing possible vote fraud exists in the primary/caucuses should be a concern to all voters. What's at stake and why should we be concerned? The new film The Ron Paul Uprising addresses some of the near history of vote fraud in this country and what we can do about it. "It's an unending travesty, and it's gone on way too long," says William Lewis, the award-winning director and the founder of William Lewis Films.
"Anyone who watched the Iowa Caucus should be very concerned, and now to find out there are still 8 precincts still missing from the official count, a count the Iowa Republican Committee says may never fully be reconciled, it makes this seem like a game," states Debbie Lewis, writer of the new William Lewis Films release.
The Daily Caller posted a report on January 11, 2012 exposing that in New Hampshire, voters in several precincts were able to secure ballots under the names of people who had passed away. No votes were cast by those obtaining the ballots.
Adding insult to the election cycle injury, a January 21, 2012 Fox News report concerning vote fraud in South Carolina does not say in which elections those nearly one thousand votes were cast. The news was broken on the very day of the South Carolina Primary. Two days before this primary, the Washington Post reported there had been a switch in the announced winner in Iowa, from Romney to Santorum. Matt Strawn, Iowa's Republican Party Chairman, still could not definitively announce a winner, as there were eight missing precincts, over two weeks later.
The writer director team for The Ron Paul Uprising compiled a few of the recent allegations for the film's section on vote fraud. Among concerns are Republican's purging voter roles in at least five states, the ease with which a virus could be installed on electronic voting machines, the undercounting of votes in Florida, voting machines which were out-of-calibration, the climate control of machines in all stages of the machine's life, and the Obama administration's interference with state voter ID laws.
In one clip included in the film, Cyber security expert and former CEO of Cybrinth, Stephen Spoonamore gives the answer to all manner of vote fraud concerns: paper ballots. "Our purpose in this section of the film is to make people aware that it's not just one party and it's not only the people, it's an array of things going on that contribute to vote fraud," states Lewis. "In the very beginning, we voted by paper ballot, in the open; no secrets. What's so wrong with that method now? We have a viable solution to vote fraud problems. Why aren't we using it?"
For more information on vote fraud and The Ron Paul Uprising, please visit http://ronpauluprising.com/
End Notes:
The Ron Paul Uprising
http://ronpauluprising.com/
South Carolina attorney general informs Justice Department of dead voters
http://www.foxnews.com/politics/2012/01/21/south-carolina-attorney-general-informs-justice-department-dead-voters/
NH poll workers shown handing out ballots in dead peoples' names [VIDEO]
http://dailycaller.com/2012/01/11/video-nh-poll-workers-shown-handing-out-ballots-in-dead-peoples-names/
Santorum finished 34 votes ahead of Romney in new Iowa tally; votes from 8 precincts missing
http://www.washingtonpost.com/politics/report-santorum-finished-34-votes-ahead-of-romney-in-new-iowa-tally-votes-from-8-precincts-missing/2012/01/19/gIQAJGuRAQ_story.html
###