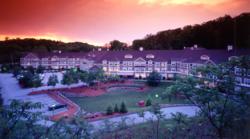 (PRWEB) January 24, 2012
The Gables at Winchester, an independent senior living and assisted living retirement community just outside of Boston, has completed a $3.1 million renovation project that includes expanded square footage, new state-of-the art amenities, and beautifully appointed new decor. Residents are enjoying the extensive renovations consisting of a state-of-the-art theater with surround-sound and real theater seats, the Black Horse Café – a bistro that offers casual dining and outdoor patio seating, a building expansion for a new activities room that opens up to a spacious outside patio surrounded by lovely landscaping and conservation land, a library with internet access and windows overlooking the Boston skyline, and a newly equipped wellness/rehabilitation area for physical and occupational therapy.
According to Pete Dabbeningo, Executive Director at The Gables, "After 20 years serving the community as a superb independent and assisted living retirement community, we were ready for a facelift. It's spectacular – and it was worth the wait!"
The Gables' new amenities and renovations, along with its large apartments each with a full kitchen, make it unique among the assisted living senior communities in the area.
"With grounds and building maintenance included at The Gables at Winchester, snow and bad weather are never a problem, making spending your retirement years in Massachusetts as enjoyable as anywhere," said Joan Jerome-Conne, Sales Counselor.
Tours of the new amenities and model apartments are available seven days a week.
Renovations began in August 2010, and The Gables officially celebrated the completed renovations with a ribbon-cutting ceremony on November 17, 2011. Invited guests, residents and their family members, as well as staff, were treated to a spectacular champagne reception.
Invited guests included significant contributors from architects Levi + Wong Design, Nauset Construction and Tina Teevens Interiors. Principals in attendance from Levi + Wong included Thomas Levi, Willie Wong, Vivan Low and Holly Marsh.
Joining in the celebration from Nauset Construction were Anthony Papantonis, president, Kevin Randall, project supervisor, Bernie Arsenault, assistant superintendent and Jon Texiera, project manager. Tina Teevens from Tina Teevens Interiors received many compliments for her innovative design of the community.
Also in attendance were leaders of The Gables at Winchester's parent company, Five Star Senior Living: Bruce Mackey, CEO; Rosemary Esposito, COO; Paul Hoagland, CFO; Chief Engineer Will Shea; Divisional Vice President of Operations Jerry Andreatos; Director of Construction Development Bob Mannix; Regional Director of Operations Don Lundin; and Director of Business Development and Hospitality Mary Ellen Greenfield. David Haggerty from Senior Net Housing was also present.
The Gables at Winchester is operated by Five Star Senior Living and is the company's only New England senior living community. Based in Newton, Massachusetts, Five Star is a healthcare and senior living services provider that operates more than 230 independent and assisted living facilities, skilled nursing facilities, rehabilitation hospitals, institutional pharmacies and outpatient health rehabilitation clinics throughout 30 states.
###