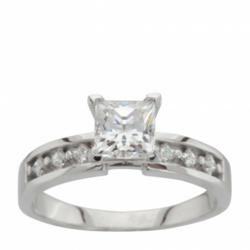 "The desire for a ring to feel modern yet have a romantic twist, was at the core of the design element that we were working on"
(PRWEB) January 24, 2012
Diamond Nexus listened to their booming social media presence that requested several new lines of jewelry to appeal to the unique trends happening currently in the jewelry business. This includes using pearls, Two Tone Rose Gold and more light,modern petite rings. To view the entire line offering, visit: http://www.diamondnexus.com/new-products
The Pearl Luxe collection was introduced to combine the beauty of man made diamond simulants with the elegance of cultured pearls for a stunning collection that would truly be heirloom quality pieces of jewelry for every woman. The Director of Marketing, Kyle Blades gushed over the new line, " We are so excited to be bringing this look onto our site and into the stores! Our customers have been asking us to combine pearls and diamond simulants for a long time, and we are able to deliver some designs that we all fell in love with here and we are sure that our customers will too!"
Making a statement with the collection are pieces such as the Greta earrings and the Camille Necklace which boast a ravishing, romantic array of white cultured pearls and diamond simulants in vintage-style floral metalwork designs for a dazzling chandelier effect. The collection includes pendants, earrings and necklaces varying from simply elegant pendants like Estelle to the dramatic Keira. The only pendant released not to contain pearls is The Swan, so named for the graceful design and the strong presence it creates with a Trillion cut synthetic Ruby center stone.
Rose Gold has been very trendy in the jewelry design world and Diamond Nexus is proud to release the Hayley, Lois and Germania to add to their line.They are dynamic and modern, with lab created diamond simulants and ribbons of white and rose gold looping across the rings, combining two new trends into the designs, two tone gold and swirling metal for a dramatic look that many women choose to wear as right hand rings. Rose Gold has been a very successful line and Diamond Nexus wanted to extend their offering.
The largest collection of new engagement rings to come out for Valentine's Day is varied with some solitaire and multi-stone ring choices. A few of the new designs are offered with peg-heads, like the Soliloquy, Hikaru and the Kit so that the center stone can be changed to hold any stone cut and carat weight for more options. The inspiration for the collection came from customers who asked for rings that would be comfortable wearing and affordable, yet still able to impress with significant stones or feminine band design. "The desire for a ring to feel modern yet have a romantic twist, was at the core of the design element that we were working on," explained Gary LaCourt , CEO at Diamond Nexus.
Diamond Nexus was founded in 2004 with the purpose of bringing to the public the powerful benefits of the diamond simulant revolution.They have over 200,000 customers worldwide that have awarded them an "A" rating with the BBB,and are rated a top ten online jewelery store according to the IR500 list. For two years in a row brides from The Knot have selected them as their Best of Jeweler. Diamond Nexus currently has two retail locations: their flagship store at Woodfield Mall in suburban Chicago, Illinois, and a second store at Mayfair Mall in Milwaukee, Wisconsin. In 2009 the company was named the official jeweler and crown maker of the Miss Universe Organization as part of NBC/Universal's "Green is Universal" environmental initiative.
###