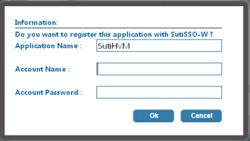 "These features provide greater user control for companies and increased productivity enhancements for end users." - said N.D. Reddy, founder and CEO of SutiSoft Inc.
Los Altos, CA (PRWEB) January 24, 2012
SutiSoft Inc., a trusted provider of Software as a Service (SaaS) and enterprise solutions, today announced the release of SutiSSO-W 2.1, its web-based solution for securing access to multiple web applications. The new release includes enhancements to drive user adoption.
The easy-to-use web-based solution eliminates the need to remember and type-in multiple usernames & passwords; reduces the time needed to locate application URLs and helps manage users. Account details of registered users and their web applications are encrypted using a proprietary and complex algorithm within the solution.
New Features Include
Add Account during Registration
Users can automatically add their account credentials and account when registering new applications for use.
Manage Users
Company administrators can now activate/deactivate multiple users in the company in one simple step.
Default Account
Users can define default accounts for registered applications to enable direct login to the application with their default account.
Domain-based Application Launching
Application credentials necessary for launching an application are automatically populated when an application is launched from the same domain with which it was registered.
Browser Extensions
Extensions for Safari & Chrome browsers are available for users of those browsers.
Third-Party Authentication
Users can login to SutiSSO-W by authenticating themselves with their Google, Yahoo or Facebook account credentials.
SutiSSO-W is available for individual and company users. Visit http://www.sutisoft.com/sutisecure/websso.htm for more info.
About SutiSoft Inc
SutiSoft Inc. is a privately held company founded by N.D. Reddy, a successful Entrepreneur with over 30 years of experience in both the Hardware and Software industry as a Founder, and CEO. The Company's leading edge enterprise/SaaS application software products range from business productivity solutions such as Electronic Signature, Expense Management, Document Control Systems, Governance, Risk and Compliance, Security Solutions and others. The company's products are developed using Java, Flex, HTML 5, AJAX and other cutting-edge technologies which allow SutiSoft to retain its core values which are Simple, Scalable, Secured, and Seamless. Headquartered in Los Altos, California USA, SutiSoft has offices in Northern California, India, Germany and Japan. Additional information is available at http://www.sutisoft.com.
###