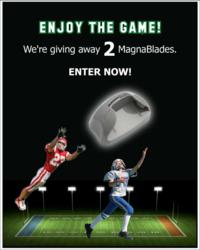 Seattle, WA (PRWEB) January 27, 2012
DNA Response, Inc., a provider of multi-channel e-commerce, marketing and order management solutions, has launched a Super Bowl-themed Facebook Sweepstake for its web store MagnaBlade.
Facebook users have a chance to win one of two MagnaBlades, each one valued at $14.99. To enter, users must "Like" the MagnaBlade fan page and enter their name and email address into the sweepstakes form. Visitors are also encouraged to post their Super Bowl predictions on the MagnaBlade page. The two winners will be announced on Monday, January 6, 2012.
Americans spend $2.5 billion a year on razor blades. With MagnaBlade, customers can cut the costs of razors in half and save hundreds of dollars a year. This revolutionary new product extends the life and performance of most razor blades on the market. It magnetically sharpens razor blades and makes them last 2-6 times longer. This portable, convenient device requires no batteries and will last many years. MagnaBlade works as soon as the first razor blade is placed onto the device; there is no waiting. Customers can use the same razor for up to 12 weeks, reducing waste and saving money!
About DNA Response. DNA Response, Inc. (DNA) provides turnkey e-commerce, online marketing, and order management services to companies in the $300 Billion direct response market. DNA clients sell products direct to consumers using TV, radio, print catalogs, web and mobile as their sales channels. DNA's ECOM2TM platform utilizes state-of-the art cloud computing technologies and services to improve operational efficiency by reducing transaction costs, eliminating credit card declines, and lowering order cancellations and product returns, while simultaneously increasing online revenue for our clients. DNA provides universal order management for processing orders in real time from all the sales channels with full visibility to the business for the clients. DNA generates incremental revenues and helps build a brand for our clients by providing comprehensive e-commerce and online marketing services.
# # #