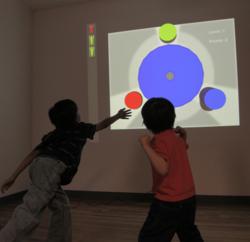 We are committed to fostering innovation by directly engaging K-12 teachers and embracing their ideas.
Los Angeles, CA (PRWEB) January 24, 2012
SMALLab Learning LLC has launched a new embodied learning environment and multiple lessons for the learning environment called Flow. Flow brings embodied learning to any existing Interactive Whiteboard or projection surface using a single motion-capture camera, similar to the Xbox Kinect™. Flow is designed to get students up out of their seats - playfully engaged - and physically moving as they learn. Students use their hands and bodies to interact with dynamic learning content in real 3D space. They work collaboratively to manipulate images, sounds, text, and graphics. This kinesthetic engagement opens new pathways to learning.
SMALLab Learning has a track record of research conducted at the Arizona State University School of Arts, Media and Engineering in the Herberger Institute for Design and the Arts. It demonstrates that embodied learning has a positive impact on student achievement. This research was conducted in real world classrooms across the country with support from the National Science Foundation (NSF), MacArthur Foundation, and the Gates Foundation. Together with our innovative professional development programs, teachers are properly trained to effectively implement embodied learning with Flow.
To celebrate the launch of Flow, the company is sponsoring a national design contest for K-12 teachers. SMALLab Learning CEO David Birchfield explains, "We are committed to fostering innovation by directly engaging K-12 teachers and embracing their ideas." Teachers can enter the contest by submitting their proposals at http://smallablearning.com/designcontest. Our expert developers will implement the selected proposals, and winning teachers will receive a free Flow installation and a free copy of their proposed embodied learning scenario. The most innovative proposals with the strongest pedagogy will be selected. The contest is open to any teacher, currently teaching any K-12 grade(s) and any subject(s) in the United States. There is no entry fee and no limit on the number of proposals that can be submitted.
About SMALLab Learning
SMALLab Learning is advancing embodied learning in schools, museums, libraries, and the home. Embodied learning is kinesthetic, collaborative, and multimodal, enabling students to learn in new ways that integrate physical action with digital media. The company offers a suite of products that have been demonstrated effective. SMALLab Learning LLC emerges from over six years of research conducted at The School of Arts, Media and Engineering at Arizona State University with funding from the National Science Foundation, the MacArthur Foundation, Intel Research, and the Kauffman Foundation. For more information, please visit http://smallablearning.com/research.
What is Embodied Learning?
Embodied learning is an emerging field that blends human computer interaction with learning sciences. Cognitive scientists have discovered compelling evidence that most language and cognition is grounded in a bodily experience. This suggests that embodied, physical activities can lead to more effective learning. Embodied learning has the potential to transform K-12 learning in schools, museums, and community centers.
###