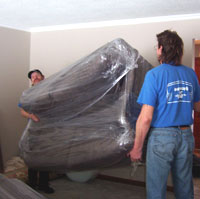 We all have to think of ways to be "green" and cost-efficient these days. And Moving Companies should be thinking green as well.
Toronto, Barrie, Ontario (PRWEB) January 25, 2012
Even a local moving company with a strong referral base and repeat business need to market themselves effectively on the Internet these days. ADCO's research found that offering their reliable, professional moving services can be improved by marketing themselves more online and less on paper.
To reach a wider audience, ADCO Movers enlisted the help of Toronto based, IFM Web Services to promote their moving services via SEO Press Releases. IFM is a Web Design and SEO media boutique servicing the GTA and caught the eye of Adco Movers last fall.
Len Doren, Creative Director of IFM, offers, "ADCO is a great family-run company. Liz and Clarence are good business people, easy to work with and wanted a boost in terms of their visibility on the Internet and increased web traffic. But it's the 'green' message in their efforts that makes this project special for us to be part of."
ADCO knows that the Internet is a valuable tool which can be used to promote one's business. Even a moving company with a history of reliable service can use the Internet to increase their branding awareness and web traffic. The media releases prepared and distributed for ADCO include standard information about the company and their services, but also their desire to help the environment, any way they can.
Clarence Barrow, of ADCO Movers notes, "We've used all types of "lead generation" services, advertised in the Yellow pages and yet most of our business came from referrals and repeat business." He adds, "In using IFM's Search Engine Optimizing services in Toronto, we've just reduced the yellow pages book by one page by turning to the Internet to better market our business." Clarence further adds, "We know that the Internet is ever-changing and offers the average business significant marketing opportunities to capture the interest of some of the millions of online searchers each and every day. And that's why we contacted IFM Web Services."
IFM is currently providing what is called "off-page SEO" effects for Adco Movers. Now, those people and businesses looking specifically for a good moving company in the GTA, Toronto or Barrie area, will find ADCO Movers website, via the search engines. Increasing ADCO's positioning on the search engines brings the opportunity to do more business and interact with more Internet users who are looking for a good moving company.
Clarence realizes that to compete in today's market, utilizing the Internet and going "green" is very important. In terms of going "green," ADCO keeps their vehicles regularly maintained and in top operating condition, which is vitally important in lowering ones carbon footprint. But even for ADCO's long distance moves, it goes beyond just keeping their fleet of vehicles running optimally. They continue to focus on keeping costs down for their clients by offering suggestions to help reduce the actual amount of cargo and belongings that have to be moved as well.
Clarence offers, "As a residential moving company, we have to think of ways to be "green" and cost-efficient these days. And our clients actually help us lower their moving costs by having a yard sale and donating some clothing to charity to start with. We also suggest donating older toys, sports equipment and even some furniture to charity, which is a great way to help the less fortunate and a positive way to lighten the load".
ADCO Movers Inc. is a family owned moving company, moving residential and commercial goods and are an official bonded carrier with Canada Customs since 1990. ADCO provides reliable, residential and commercial moving services, relocating families and business locally or across Canada and the USA.
For more information on ADCO Movers, call their office toll free at 888 250-2008, locally at 416 631-8189 or visit their website at http://www.adcomovers.ca.
###