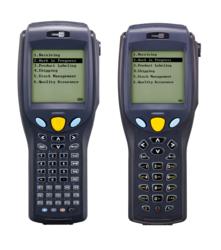 Robust and productive, the CipherLab 8700 Series is designed to perform optimally in extreme surroundings encountered in the manufacturing, transportation and logistics businesses.
Plano, TX (PRWEB) January 24, 2012
CipherLab, a leading innovator in Automated Identification and Data Capture (AIDC) for manufacturing, retail, transportation and logistics industries, today launched the new 8700 series industrial mobile computers. Come with a tough exterior, the 8700 series is able to sustain in harsh environments yet deliver optimal performance. Its intuitive Graphic User Interface (GUI) is user-friendly which makes daily operations more efficient. Equipped with a wide range of wireless connections, the 8700 series improves communications and workflow in various applications.
"The manufacturing and transportation industries are tough environments to work in. Our products help to alleviate issues by offering flexibility and efficiency to streamline the processes," stated Sherman Chuang, President of CipherLab. "The 8700 series is designed to handle the complex data collection tasks in rough conditions."
The 8700 series features a large touch screen with multiple data input alternatives including laser, linear imager, 2D imager, and RFID. On top of that, the long range laser option enables data collection from a distance in a warehousing or manufacturing setting. GPS is also incorporated into the device, allowing you to instantly locate and track staffs for a more efficient operation. In addition to the durable design and lower power consumption, the 8700 series is equipped with software tools to help you effectively manage the process through easier customization and faster data transmission via FTP.
For more details and specifications regarding the CipherLab 8700 Series industrial mobile computers and other CipherLab products, please visit http://www.cipherlab.com.
About CipherLab
CipherLab is a global leader in the design, manufacture, and marketing of Automatic Identification and Data Capture/ Collection products and systems. The company's mobile computers and scanners are integrated into the networks of some of the world's best known logistics, retail, distribution, government installations and healthcare companies, helping them run more efficiently and effectively onsite and on the road. Operating worldwide, CipherLab is headquartered in Taipei, Taiwan with offices in China, Germany and the USA, and is publicly traded on the Taiwan stock exchange (Taiwan OTC: 6160).
###