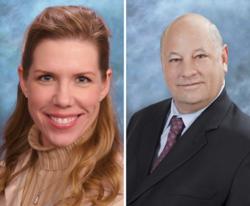 Wendy and Tony's unique combination of science and customer service is a perfect fit for AEGIS. We are in the business of customer service, we just happen to do scientific analysis–it's the extras that set us apart.
North Sioux City, SD (PRWEB) January 25, 2012
Aegis Food Testing Laboratories (AFTL), a leading independent food testing laboratory recently named industry veterans Dr. Wendy Warren to Vice President Government and Regulatory Affairs and Anthony Vagnino to Director of Sales and Marketing. Their hiring adds unparalleled science and food safety experience as AFTL expands its role in the food testing industry.
"Wendy's years of experience and outstanding credentials are a great fit for our newly created position of Vice President Government and Regulatory Affairs," said Phyllis Antonacci, CEO. "In addition to helping our clients understand and cope with the many regulations that apply to their industries, Dr. Warren has the unique ability to assist in developing a common sense business approach based on sound science that will help them economically achieve their food safety goals."
Dr. Warren received her B.S. in Microbiology from Oregon State University and Ph.D. in Microbiology from the University of Texas Health Science Center in San Antonio. Dr. Warren has over 13 years of professional experience delivering scientific services to the infection control and food safety industries and has served as Principal Investigator for multiple NIH and USDA Small Business Innovation Research grants. As a versatile microbiologist, she offers a truly exceptional combination of proven analytical, business, communication and customer service skills.
"As Director of Sales and Marketing, Anthony Vagnino's 25 years of experience with HACCP and GFSI food safety management systems will help clients find opportunities to lower costs and implement effective testing strategies," said Antonacci. "Tony has assisted companies and customers by establishing food safety and quality programs of science based solutions for a wide range of food and consumer product industries." Tony has a Bachelor of Science in Food Technology from Colorado State University.
"With decades of combined industry experience, AEGIS is uniquely qualified to efficiently deliver customer focused solutions." said Dr. Warren. "I joined the AEGIS team because I believe the company is built for long-term success, as the food testing industry moves toward increased transparency and proven technical laboratory standards."
About Aegis Food Testing Laboratories
North Sioux City, South Dakota based Aegis Food Testing Laboratories was founded to support companies in their increasingly demanding and competitive operating environments. Aegis Food Testing Labs strives to set new industry standards for accuracy, reliability and customer service while providing a comprehensive range of value added services and solutions for its clients.
AFTL has two state-of-the-science laboratories located in North Sioux City, SD and in Oklahoma City, OK
###