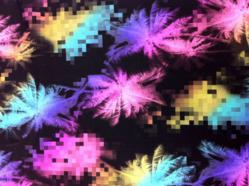 Direct digital printing allows for small runs, less waste and an ability to achieve intricate and complex designs.
Westerly, RI (PRWEB) January 24, 2012
Unique products mean stronger sales at better margins. Utilizing Darlington Fabrics' capabilities in direct digital printing is one powerful way apparel firms can avoid commodity status and differentiate their designs.
As a global leader in stretch warp knits, Darlington Fabrics has expanded and enhanced its critical capabilities in direct digital printing of nylon blend Raschel, Tricot, and Mesh fabrics. Mindy Earleywine of Darlington notes that, "As many of our customers know, using direct digital printing allows for small runs and less waste. But even more important to many is the ability to achieve intricate and complex designs."
Darlington has a library currently containing 1,127 production ready prints. "To further assist apparel firms, we have professional textile design capability and a full-time colorist in house. Together we can create one-of-a-kind designs. Our system is geared to helping our customers grow their sales," says Earleywine.
Apparel firms focused on swimwear, intimate apparel, athletic wear, dance and costume have all relied on Darlington for fabric and complementary digital printing services.
Direct digital is not the right approach for every printing application. According to Steve Perry, Senior Vice President, "This method is most meaningful and cost effective for highly detailed designs in quantities up to 1,000 yards."
Also very important to creating exciting designs that grow customer sales is Darlington's ability to precisely match colors. "We get the detailed print right – and match the vibrant colors your designers want every time." says Perry. "We blend the art of design, science of printing and experience of manufacturing performance stretch fabrics to produce the top quality product you expect."
While digital printing is not new, more apparel firms are taking advantage of this method to create exciting products than ever before. As product life cycles shrink and short runs become more prevalent, demand has grown. Darlington's enhanced printing capacity combined with superior color matching is receiving serious consideration by many apparel firms.
Darlington Fabrics is a division of The Moore Company, founded in 1909 and still focused on innovation. Sister divisions include The George C, Moore Company, Fulflex, Moeller Marine, Moeller Plastics, and AMER-SIL.
The Moore Company continues to manufacture products in the United States. International manufacturing facilities complement domestic capabilities while serving regional markets around the globe.
###