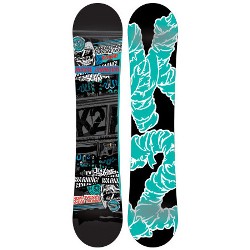 Expert and user reviews indicate that lightweight, forgiving, and easy-to-control snowboards are the most desirable for beginners
New York, NY (PRWEB) January 24, 2012
A new buying guide by Cheapism.com, a review site dedicated to finding quality low-cost products, has identified the best cheap snowboards costing less than $300 for kids and adults. All the top picks are versatile snowboards from highly regarded brands. The Salomon Pulse, K2 Vandal, Ride Lowride, and Forum Recon work best for beginning and intermediate riders. They perform well on many areas of the mountain and in the terrain park.
The K2 Vandal, Ride Lowride, and Forum Recon feature reverse camber, or rocker, a design that lets novice riders perform tricks in the park and float on powder with less chance of catching an edge and falling. The flat camber on the Salomon Pulse provides a bit more stability for getting used to groomed runs, as well as learning to carve and hold an edge. Riders will appreciate the board's ability to handle jumps.
The cheap kids snowboards on the list are the K2 Vandal, a durable board recommended for grinding rails and boxes in the park, and the Ride Lowride, which is light, easy to control, and flexible. The K2 Vandal can also accommodate small adults, but the Salomon Pulse and Forum Recon are better fits for grown-ups given their greater length and width. Cheapism's buying guide also highlights two specially designed cheap women's snowboards: the Burton Genie and Salomon Lotus.
Cheapism's picks contain must-have features and reflect feedback from snowboard reviews. Expert and user reviews indicate that lightweight, forgiving, and easy-to-control snowboards are the most desirable for beginners; all of Cheapism's top picks meet these standards. Still, experts say the right snowboard for any given user depends on his or her experience, size, and riding style. While it may be tempting to choose a snowboard based on a flashy design, experts caution that pizzazz doesn't improve performance.
About Cheapism.com
Called by The New York Times "a Consumer Reports for the cheap," Cheapism.com is a review site that serves consumers on a budget who want the best value for their money. Cheapism is the only review site that focuses exclusively on low-price products, a part of the market often overlooked by experts.
###