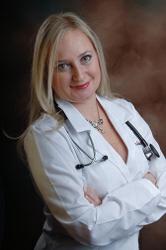 Concierge medicine enables me to provide adequate primary care service
New York, NY (PRWEB) January 25, 2012
A top Manhattan Internist Dr. Marina Gafanovich, MD is excited to announce the conversion of her medical practice into a boutique medicine office.
Dr. Marina Gafanovich is a firm believer in the benefits of concierge medicine and decided to share her beliefs on the subject in light of recent coverage of the subject in newspapers and television. She believes that much of the critique surrounded what is sometimes known as "boutique medicine" is due to celebrity offenders such as Michael Jackson and baseball player Alex Rodriguez , and the (wrong) opinion that boutique medicine is "only for the rich".
"Moving to concierge medicine is not an attempt to create an economic gap in patient care," she explains. "Nor is it a means for the ultra rich to have carte blanche when it comes to having dangerous prescriptions filled. The fact is that many doctors were forced by the insurance industry to 'over-book' their offices just to stay afloat and that meant that patients weren't receiving adequate care. Most of us didn't get into this business to become rich, we went into medicine because we felt a need within us to care for people. Concierge medicine enables us to adequately do that."
Concierge medicine means smaller practices, but more service. Patients have 24 hour access to medical assistance, same day appointments, and more time with their physician, enabling them to focus on preventative medicine and wellness programs—something Dr. Gafanovich believes strongly in and promotes daily at her New York physicians practice.
"It's wrong to think of it as 'boutique' medicine as though it is an exclusive or upscale choice," says Dr. Gafanovich. When you consider the high cost of most insurance plans today concierge medicine is well-beneath what individuals usually pay out even with group rates. Look," she tells us, "insurance was never meant to be what it is today—end to end care. It was always supposed to be for catastrophic events and it still can be…"
Moving to concierge services can actually enable patients to lower their insurance rates by choosing plans that emphasize hospitalization or specialty care over standard office visits, while buying into a group plan that enables them to truly take advantage of a physician's services and knowledge. When doctors have more time with a patient the care is better and the patient feels better. It is a return to a different generation of health care when doctor's knew their patients and were able to perform house calls and other extended services that (oftentimes) saved lives.
"I've always wanted a medical practice that enabled me to be a part of bettering my patient's lives. That takes time," Dr. Gafanovich explains. She is but one Manhattan physician that is making the move to concierge medicine, but she believes that it will someday soon become the standard.
"We're moving towards this method of practice in an attempt to increase the standard in quality of care for our patients. Giving each patient more time will enable us to catch diseases early, prevent chronic conditions, and really create the type of practice I had growing up as a child," says Dr. Gafanovich.
Dr. Marina Gafanovich is an internal medicine provider in Manhattan's Upper East Side. Her practice is located at Dr. Marina Gafanovich, MD - 1550 York Avenue, New York NY 10028 - (212) 249-6218 or on the web at: http://www.mynycdoctor.com
###