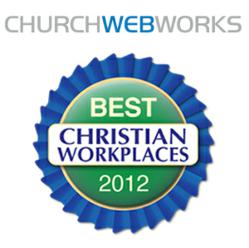 This award recognizes the core Christian values that we bring to the workplace,"
Seattle, Wa. (PRWEB) January 25, 2012
Church Web Works, a world leader in the provision of Web sites for churches, has again been named one of the best Christian workplaces in the United States. The award is given annually by the Best Christian Workplace Institute to outstanding Christian employers.
The company, based in Renton, Wash., is the only software developer on the list.
This is the second time that Church Web Works has received the award, which is based on an anonymous survey of thousands of employees across the United States, Canada and Australia who work at organizations with a stated Christian mission and values.
The survey covers issues such as job satisfaction, organizational commitment, Christian witness, supervisory effectiveness, personal growth and development, teamwork, communications and pay benefits.
"This award recognizes the core Christian values that we bring to the workplace," says Church Web Works President Gavin Fysh. "We believe that our personal faith is vital to the success of our company. We not only emphasize integrity, trust and honesty, but we also promote a lifestyle balanced between work demands and family needs."
Founded 11 years ago, Church Web Works employs 12 and is enjoying steady sales growth. After recently introducing version 5.0 of its web-authoring software, the company is now offering a free 30-day trial of its service. More details can be found at http://www.churchwebworks.com.
# # #