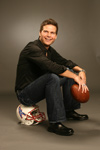 Westlake Village, CA (PRWEB) January 27, 2012
Bo Eason says his dream used to be winning a Super Bowl but when 7 knee surgeries left him with no option but to stop playing professional football, he realized that he could influence more people, not by winning a Super Bowl, but by telling stories and impacting people. Eason says, "Every time we get knocked down, we have to have people around us to lift us up, that is what I do, that's what I'm here for." His seminar was held at the Four Seasons in Westlake Village on January 20th through the 22nd and included many special guest appearances, among them New York Times Best Selling Author and Founder of We First Branding, Simon Mainwaring, and Stand Up Comedian and Actor Kyle Cease.
His goal in this seminar was helping people discover how to tap into, embrace and exploit the one asset they have that nobody else on planet earth can leverage or take away from them: their true personal story. Once people have this, Eason believes they will become more respected, trusted and believable in every personal and business interaction. Eason promises that those who put his advice into practice will have the knowledge and the tools to immediately transform their lives and make every dream come true. Eason says, "They'll do it all while having more fun than they ever imagined possible! And the way they will do it, will be with an extremely Special Program I assembled, called the Personal Story PowerPack." Eason offered this special program during his seminar and offers it online as well.
Eason says, "While I love sharing and communicating my story... let's be straight... what really gets me going is your story… and you discovering its use and power! At the "Personal Story Power Event" I'm going to show you the exact secret formula and recipe to discover, connect with, communicate and cash in on your own personal story in a way you never thought possible."
Bo Eason offered a 100% money back guarantee on the $2,497 seminar price if attendees were not completely satisfied. it goes to show how great the seminar was since there were no refunds requested.
Dawn Eason
Dawn(at)BoEason(dot)com
(323) 834-9792
http://www.BoEason.com
"We Support The H.O.M.E. Foundation"
About The H.O.M.E. Foundation:
The Helping Others Means Everything, or The H.O.M.E. Foundation, is a not-for-profit organization dedicated to helping our Family of Charities. Frank Verdugo, President of The HOME Foundation, wants to help as many worthy charities as possible as they struggle during these tough economic times. Frank Verdugo helps raise funds through luxury dream home raffles, prizes, and high profile celebrity events in Hollywood... "Our mission is to help charities reach their fundraising goals and to bring awareness to their praiseworthy causes." Please visit our Dream Home Raffle at: http://www.HOMEFoundationRaffle.com and http://www.facebook.com/HOMEFoundationRaffle.
# # #