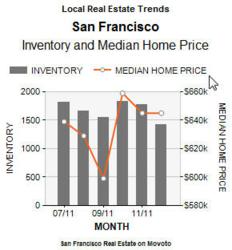 Real estate is local...Movoto Market Trends widgets will enable ... a hyper-local perspective on the real estate market.
(PRWEB) January 24, 2012
Movoto.com, a leading provider of free access to MLS listings and introductions to top real estate agents, announced the introduction of Movoto Market Trends Widgets, a simple tool that lets anyone publish local real estate market statistics on their website or blog.
Movoto's Market Trends widgets are available for over 2,000 cities in Movoto's 30 state coverage areas. The widgets provide customized graphs of monthly homes for sale inventory and median list price of all homes in a local real estate market. Graphs can be customized to show a specific city, different real estate market statistics and from 6 months to 2 years of data.
Mark Brandemuehl, vice president of Marketing at Movoto.com said: "Real estate is local and most real estate market reports available to consumers deliver region wide or even national homes for sale market statistics. Movoto Market Trends will enable real estate agents and real estate writers and bloggers to offer a hyper-local perspective on the real estate market."
To build your own custom Movoto Market Trends widget visit http://www.movoto.com/tools/market-trends.
About Movoto
Founded in 2005, San Mateo based Movoto is led by an experienced team of real estate industry veterans and internet technology experts with a shared vision of making it easy to buy a home. Movoto provides a unique online home-buying solution that combines innovative, easy-to-use research tools with ready access to a network of experienced local real estate agents. Movoto now offers its free, full service real estate brokerage services and advanced search tools to find homes for sale listed in the MLS in 30 states and Washington, D.C. In 2011, Movoto was named to the Inc. 5000 list of fastest growing companies. For more information about Movoto please visit http://www.movoto.com.
###