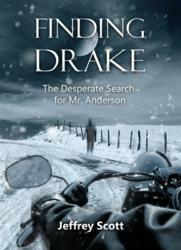 Northfield, MN (PRWEB) January 25, 2012
"Have you seen this man?" Such was the headline that appeared in a small town newspaper the morning after Mr. Anderson went missing. As many with Alzheimer's are prone to do, Mr. Anderson wandered and got lost. But his case was dire. He wandered out of doors, into a frigid Minnesota winter, and a massive search and rescue effort ensued.
'Finding Drake: The Desperate Search for Mr. Anderson' is told from the first person perspective of Mr. Anderson's grandson, Drake. Abandoned years ago by his alcoholic mother, fifteen-year-old Drake is forced to care for this crazy old man suffering from a disease he doesn't understand, and he resents every minute of it. But as the search progresses and the media hype attracts people from Mr. Anderson's past, including motorcycle-riding Vietnam War vets, Drake begins to discover that his grandpa was once a normal man whom he could've learned to love and respect: " … it made me realize that he had a past. Before his brain died, Grandpa lived. From that moment on I began to crave knowledge of who he was – who he used to be – and I hated him a little less." [Excerpt from 'Finding Drake: The Desperate Search for Mr. Anderson' Chapter 7]
Author Jeffrey Scott hopes that Drake's discovery will inspire other kids with grandparents suffering from Alzheimer's. "I want readers of this book to see their own loved ones reflected in Mr. Anderson," he said. "I want them to realize, as Drake did, that grandma or grandpa is not crazy, that they have human qualities masked by a dreadful disease. Mr. Anderson is based on my own father, and this story is my way of telling my kids that their grandpa was once a loving, respectable man before Alzheimer's stole his dignity."
According to the Alzheimer's Association an estimated 5.4 million Americans suffered from the disease in 2011, and the number continues to grow. That represents lots of grandchildren afflicted in their own way by a disease that robs them of loving relationships with their grandparents. 'Finding Drake' fills a unique niche in this underserved market as there are very few fiction books for middle-grade readers touching this subject. As a Christian book its ultimate message is forgiveness, but its target market is the Alzheimer's community.
'Finding Drake: The Desperate Search for Mr. Anderson' will be released in increments, with its first edition available exclusively for the Amazon Kindle at a low cost of $2.99. Amazon Prime members have a limited opportunity to borrow it for free. A paperback edition is planned for later in the year.
For more information, contact Jeffrey Scott at: sonofpeterpublishing(at)gmail(dot)com
About the Author
Jeffrey Scott is a Christian Author who is passionate about writing for young readers. With the plethora of cultural influences competing for the attention of our youths there is a desperate need for wholesome, compelling, God-based literature to enter the fray and win the battle of light over darkness. As a retired military veteran Jeffrey Scott is not afraid to join the fight, and he has stepped onto this new battlefield with his debut novel 'Finding Drake: The Desperate Search for Mr. Anderson', available at the Amazon Kindle store.
# # #