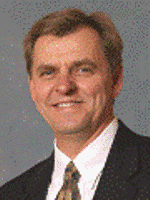 The healthcare industry is in the midst of adopting new technologies and needs strong technical sales executives to guide and provide the solutions.
Phoenix, AZ (PRWEB) January 25, 2012
ClearDATA Networks, Inc., a leading provider of cloud computing and infrastructure services for the healthcare industry, has expanded its senior management team with the addition of Brian Mitchell as Vice President of Sales. Brian was formerly with GE Healthcare as Vice President and General Manager of the Hospital and Large Practice Sales.
"The healthcare industry is in the midst of adopting new technologies and needs strong technical sales executives to guide and provide the solutions." said Darin Brannan, ClearDATA's CEO. "Brian has been a leader at the forefront of healthcare technology innovation and brings the experience and vision necessary to promote the ClearDATA Healthcare Cloud Platform."
David Bean, ClearDATA EVP of Sales and Marketing adds "Brian brings strategic industry experience and a substantial network of healthcare relationships to the team. He brings exceptional sales initiative and leadership skills which will drive ClearDATA's growth objectives in 2012. We are very proud to have him on the team." At GE, Mr. Mitchell was a top Sales Management Leader for many years and the 2010 President's Winner Circle Award recipient.
"I am excited to join a team with such outstanding backgrounds and attainment of success in healthcare, information security, and cloud computing. This is a significant opportunity to build the market leader in this category." said Mr. Mitchell. "In addition, I look forward to bringing ClearDATA's innovative new technologies to market that address real pain points and delivers an irresistible customer value proposition. It is what I have done throughout my career, and ClearDATA's Healthcare Cloud Platform is the right product at the right time."
In addition to Brian's 20-year history as a successful technology executive, Brian is a frequent guest speaker and mentor on the topic of leadership and is establishing a Leadership Initiative that is drawn from his extensive education, speaking and writing experience. In 2007, Brian authored "The 5 P's of Successful Selling". He is a featured speaker at the 2012 Centricity Technology Conference in San Diego January 29th – 31st.
About ClearDATA Networks
ClearDATA is the market leader for cloud computing and information security services to healthcare providers, VARs, RECs and software vendors assisting them to fully automate and securely manage healthcare medical records, applications, IT infrastructure and digital storage. The Company provides HITECH HIPAA compliant cloud and hosting infrastructure and managed services, off-site back-up and disaster recovery, information security, and world-class support. The company also provides HIPAA Security Risk Assessment and Remediation services through its U.S. Healthcare Compliance division to the healthcare industry to ensure that they meet the rigorous standards of security required for protected health information to demonstrate Meaningful Use.
# # #