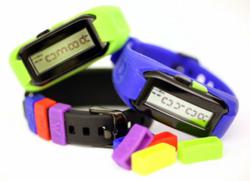 With MOVbands on their wrists and competition on their minds, students made more active choices with their free time – from walking to school to walking the dog!
Cleveland, OH (PRWEB) January 25, 2012
Today, obesity is one of the most pressing health concerns facing our country. According to Active Living Research, more than one-third of children, approximately 25 million kids, are obese – and physical inactivity is a leading contributor to the epidemic. And, while The Surgeon General recommends at least an hour of physical activity a day for children, only 3.8% of elementary schools provide daily physical education. Yet, ample studies show that the more active a student, the better they perform physically and also mentally.
"While schools are challenged today with budget constraints and pressure to continually improve test scores, activity is a missing component of making the grade," states Blake Squires, CEO of MOVband. "With MOVband, we are able to use simplified technology to engage kids and get them back on track to moving in a healthy direction."
MOVband is a durable activity wristband and watch that tracks daily activity and total movement mileage. While the MOVband technology is more advanced than a pedometer in that the band tracks total movement – not just steps – the simple and fun design makes it easy and cool for kids (and adults) of all ages to use and enjoy.
The MOVband Challenge is a school-ready program that encourages all participants to move 100 miles in two weeks, rewarding mileage with added color bands to their MOVband with each 25 miles reached, and classroom materials that encourage and motivate students through the Challenge. Staff, family members and the community at large are welcome to participate as well.
And, to support its mission, MOVband has a performance based payment option that gives schools and organizations full access to the product & program with no upfront cost. Kids simply get sponsored for their activity, thus creating a better fundraiser.
The nationally-acclaimed Chagrin Falls Exempted School System in the Cleveland, Ohio suburbs recently completed their MOVband Challenge, collectively moving over 187,364 miles – exceeding their goal by more than 35 miles per participant.
"I think MOVband has been a wonderful mechanism to get students in grades Kindergarten through 12th thinking about their health and physical activity," stated Superintendent William Koons. "With MOVbands on their wrists and competition on their minds, students made more active choices with their free time – from walking to school to walking the dog!"
With the success of their MOVband Challenge, Chagrin Falls used their funds raised to help purchase new fitness equipment for the district, including rock walls for the intermediate schools and new fitness center equipment at the middle school campus.
To learn more about MOVband and the MOVband Challenge, visit http://www.MOVband.com or view http://www.youtube.com/watch?v=UOHNdX20kRc.
About MOVband
MOVband, LLC is dedicated to fighting the obesity epidemic through accessible and innovative products and programs. MOVband is a simple, durable, and affordable wrist-worn product that displays time while tracking daily activity and the equivalent of total miles moved. MOVband is the centerpiece of the MOVband Challenge, a program that encourages participants to reach 100 miles over two weeks.
Inspired by a teacher and active mother of three, MOVband and the MOVband Challenge offer schools, corporations and other institutions a fun and easy way to track movement and be rewarded. To become a more active and engaged school, company & community, visit: http://www.MOVband.com.
###