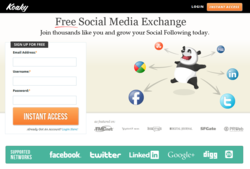 We offer our members an exciting variety of social networks for them to grow their social profiles. --JP Bisson
Cebu, CEB (PRWEB) January 26, 2012
Clicking Labs, a leading provider of Web 2.0 business applications welcomes a new development to their platform. Koaky is Clicking Labs' first initiative to join the ranks of online social media exchange to achieve more Facebook Likes, Twitter Followers, Google Plus 1s, and the like. This initiative of free online social media Koaky was brought on by the vision of the CEO of Clicking Labs, JP Bisson. Today, they announce another change to improve their social network platform for its users.
Koaky is a free service that allows a user to grow social networks. This platform can help struggling start-up companies, upcoming personalities, and individuals garner online exposure and credibility in the eyes of its peers. He mentions "When we first developed Koaky, we had so many ideas, we always wanted to bring something new to our social platform that will make it enjoyable for our members. The point is to grow socially all within on platform. Get more fans, likes and followers for our members."
Business Development – Managing Director, Jonathan Kennedy adds "Koaky supports a wide variety of social networks to serve the needs of the members of our community. We offer our members an exciting variety, from the most popular such as Facebook, Twitter and Google Plus to other social networks such as Digg and LinkedIn. We like to keep things interesting and which is why we decided to add another social network to the ranks. We're bringing in Tumblr to the current mix because it's another popular site that people currently enjoy."
Aside from the current array of social networks such as Facebook, Facebook Share, Twitter, Digg, Google Plus, Stumble Upon, LinkedIn and now Tumblr. The site also has an on-interface chat function as a form of interaction for members and the administration, because it provides instant communication for both parties. "Social media is very quick to change and we want to constantly be up to date with our services" says Business Development – Managing Director, Jonathan Kennedy.
Koaky continuously is growing bigger, stronger and currently developing new things to improve the platform. Learn more about Koaky and their latest updates and offerings, please visit their website at http://www.koaky.com.
About
Koaky is a wholly owned company by Clicking Labs. With dedication and perseverance they were able to bring together a diverse team of web professionals to provide internet businesses with creative web marketing strategies. Founded in Ottawa, Canada, the company has expanded operations to Cebu, Philippines in early 2011 to better serve its clients.
###